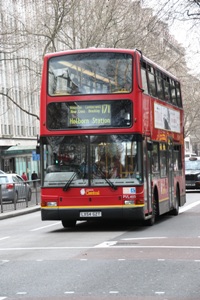 Growth across all sectors as group moves away from fuel hedging
Go-Ahead Group has released its half-year results for the six months ending December 31, 2011.
Group revenue was up 5.9%, while underlying operating profit was up £1.7m.
In the regulated bus market (London), operating profit was down £1.2m to £17.2m – although Keith Down, group finance director, reported there has been a "Good contribution from new contracts, partly offset by labour costs." The operating margin has also reduced from 10.5% to 9.5%, in line with the full year margin for 2011.
Quality Incentive Contracts (QICs) are down £1.3m, which the firm says is due to "tougher targets and roadworks". Transport for London sets performance targets called QICs to ensure bus operators run a high quality service. Operators are penalised when targets are not met.
While a breakdown of figures is unavailable, the firm said insurance claim costs have reduced.
In the deregulated bus market, operating profit was down £0.5m to £18.0m with an expected contribution from the acquisition of Thames Travel of £0.3m.
There was no change in underlying fuel costs, a reduction in insurance claim costs and increased costs resulting elsewhere from the implementation of a new contract. Operating margin reduced from 12.8% to 11.7%. Strong organic revenue growth was partly offset by increase in labour costs.
Go-Ahead says it has also invested "heavily" in new buses, reflecting contract wins in London and enhancing deregulated operations. Of these, the firm has leased 120 and purchased 198 new buses.
While the group's fuel has been fully hedged since 2009, from next year (2013), this figure will fall to 74% and will account for just 39% by 2014. In 2009, fuel was hedged at 43 pence per litre (PPL); in 2010 it was 47PPL; in 2011 it fell back to 41PPL, a figure which has remained the same for 2012; and in 2013 and 2014, assuming hedging is completed at same average price, it is anticipated to be 49 and 51PPL respectively.
The total annual cost for 2013 is expected to rise by around £10m compared to 2011/12. With a 20% BSOG (Bus Service Operators Grant) cut coming into force in England from April 1 this year, Go-Ahead anticipates an impact of circa £1.6m, the BSOG reduction being partly offset by the additional subsidy eligible for smartcard ticketing. The impact for 2013 is expected to be circa £9.6m.
David Brown, group chief executive, commented: "I am pleased to report a good set of results for the first half of the financial year. Growth has continued across all of our businesses as the public seek high quality, convenient and value for money alternatives to the private car.
"In bus, our strategic focus of operating in more vibrant urban areas, predominantly in the South East, combined with innovative local marketing and the promotion of smart ticketing has continued to deliver passenger growth. We recently announced the acquisition of Carousel, a small bus operation in High Wycombe, which fits perfectly with our strategy of acquiring bolt-on businesses which provide a solid basis for increasing passenger numbers.
"The Group remains in a good financial position with strong cash generation and a robust balance sheet.
"Looking ahead, whilst we remain suitably cautious about the wider economic outlook, in rail we expect first half revenue growth trends to continue in the second half and in bus we expect a solid performance despite an impact from the implementation of a new contract.
"Overall, we continue to anticipate the Group will deliver full year results in line with management expectations."
Go-Ahead group has also submitted bids for two new rail franchises (Thameslink and Essex Thameside). It expects to carry 10% of Olympic spectators using public transport to get to the games via its Southeastern rail franchise.
Visit the Go-Ahead Group's corporate website at www.go-ahead.com