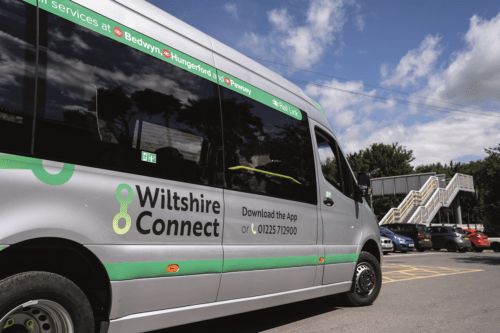 A new DRT service has been launched in the North Wessex Downs, the fourth such service now operated by Go-Ahead Group
An on-demand bus service linking rural communities in North Wiltshire is to be operated by the Go-Ahead Group on behalf of Wiltshire Council. The new Wiltshire Connect network will be run by Go-Ahead subsidiary Salisbury Reds, and is being funded and managed by the local authority with support from the government's Rural Mobility Fund.
The operating area stretches across the North Wessex Downs Area of Outstanding Natural Beauty, which is a popular area for ramblers, cyclists, horse riders and day trippers; places of interest accessible via Wiltshire Connect include Savernake Forest, one of the oldest woodlands in England; Wilton Windmill, the only working flour windmill in the south-west, and Crofton Pumping Station – which houses the oldest working beam engine in the world.
The service is split into three zones: the Pewsey Vale which is already operating; Marlborough and Great Bedwyn which begins on 4 September; and Marlborough and Hungerford which starts on 30 October. All fares will be £2 under the Government's English national bus fare cap.
The Go-Ahead Group already operates three demand-responsive bus networks: JustGo in north Lincolnshire, PickMeUp in Buckinghamshire and The Robin in the Forest of Dean, Gloucestershire. Mark Anderson, Go-Ahead's Customer and Commercial Director, said: "These buses are a terrific initiative, and we're proud to be operating them for Wiltshire Council. We believe demand-responsive transport is an important concept in providing reliable bus service to rural communities.
"Wiltshire Connect will make it easier and more convenient for local residents to get to schools, hospitals, shops and work, or to connect with fixed bus and rail networks. Visitors will be able to summon a bus at the touch of a button to visit some of the west of England's most stunning chalk downs, villages and arable landscapes."
Cllr Richard Clewer, Leader of Wiltshire Council, added: "Wiltshire Connect is a revolutionary new bus service that will serve thousands of Wiltshire residents, connecting communities and helping to tackle rural isolation. These innovative new services combine semi-flexible and on-demand buses to give people a service that takes them where they want to go, at a time that suits them and for a reasonable price. People can either hop on and off a timetabled semi-flexible service, or book in advance using the smartphone app or by calling us – it's very easy to use.
"In our Business Plan, we set out our commitments to have vibrant, well-connected communities, and to build an efficient and effective transport network that offers a viable alternative to the car, and Wiltshire Connect does just that for all residents in the Pewsey Vale are and beyond."