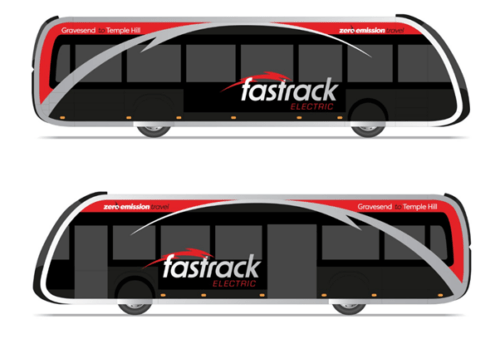 New Irizar ie Trams will be used on the network around Dartford and Ebbsfleet, which carries 2.5m people annually
The Go-Ahead Group has been awarded a 15-year contract worth £110 million by Kent County Council to operate the county's Fastrack bus rapid transit system. The group's Go-Ahead London division will operate the service from November 2024, and existing buses will replaced with a zero-emission, electric fleet on the network, which runs in the Dartford, Bluewater, Ebbsfleet and Gravesham area.
Go-Ahead is in talks to procure a fleet of 28 Irizar ie Trams, charged via an inverted pantograph. The distinctive vehicles will feature leather seats, USB chargers, WiFi, braille buttons, luggage racks and real-time passenger information. Similar vehicles are already in operation on Go-Ahead London routes in south-east London. Fastrack operates a high proportion of its routes run on dedicated busways.
The contract will add 100 staff to the Group, which has plans to expand in the UK bus and passenger transport market under its 'Next Billion Journeys' strategy. Go-Ahead intends to use its transport apprenticeship scheme to recruit for Fastrack.
Chief Executive Christian Schreyer said: "Kent's Fastrack network is a fantastic blueprint for the future of bus travel, on dedicated busways away from traffic congestion. Go-Ahead will make this a zero-emission service and will deploy comfortable, modern, state-of-the-art ie Trams to enhance passengers' journeys."
Fastrack Development Manager at Kent County Council Shane Hymers commented: "Fastrack is the jewel in the crown of Kent's bus network and our intention with this new contract was always to achieve the best possible outcome for our users, securing the highest quality service proposed to us. Another key agenda was to transform Fastrack into a zero-emission operation, improving out footprint in Kent Thameside.
"Following KCC's successful bid for DfT ZEBRA funding, we've been able to make this a reality. We're delighted to embark on this 15-year partnership with Go-Ahead and I can't wait to see the next generation of Fastrack come to fruition in 2024.'
Councillor David Brazier, Cabinet Member for Highways and Transport at Kent County Council said: "Our flagship Fastrack bus rapid transit service is a singular tool designed to enable continued economic development and sustainable regeneration in Kent, crucially helping to prevent unacceptable traffic congestion in and around the key traffic interchange, the Dartford Crossing.
"Fastrack's new zero-emission fleet will further improve air quality and visibly set the trend for local communities and other industries. Through the National Bus Strategy, Kent County Council is working even closer with our bus operators, and it is only through these strong partnerships that we can achieve the bold ambitions that we have set for ourselves. We look forward to welcoming Go-Ahead to Kent."