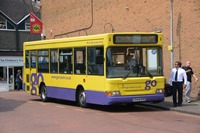 New service to be funded for three years, with the hope it will continue on a commercial basis after this period
Sevenoaks Town Council has reported that an agreement has been reached with Kent County Council and Go Coach for the provision of a regular hourly bus service for Mondays to Saturdays.
The bus service has been given the number 8, as it follows a figure of eight route around Sevenoaks.
Sevenoaks Town Partnership and Go Coach have successfully operated the Vintage Bus No 7 service during the summer months. However, the new additional provision Sevenoaks No 8 will be a year round service.
Funding for the No 8 should cover the service for approximately three years. It is hoped that during the first three years of operation the No 8 bus will be used sufficiently to make it financially viable for future years.
The proposed fare for the bus is a £2 single journey and £4 day ticket. Normal concessions will apply and the bus will be fully accessible.
The new service is due to commence on November 2, 2015.
Mayor of Sevenoaks, Cllr Stephen Arnold, said: "I am very pleased that with the support of Kent County Council, Sevenoaks Town Council has, on the back of our very successful seasonal No 7 service, established the No 8 bus to provide an additional public service route around Sevenoaks.
"This is a further example of our commitment to provide residents (and employees) all year round access to our retailers and businesses in the town centre. Our continuing and successful partnership with Go Coach is an important factor in this initiative, a local bus operator developing local routes for our community.
Go Coach Director, Matthew Arnold, said: "Following on from the success of the seasonal vintage bus route 7 which the local community have wholeheartedly embraced, we're delighted to continue to work with our partners to deliver improvements to bus services in Sevenoaks. The new service 8 will provide links to a number of areas currently without a bus service and therefore improves accessibility for all."