Uno and Go North East have both switched to exact fare operation to help reduce the potential spread of COVID-19 onboard.
Uno drivers are now using bespoke metal cash boxes that hang on the inside of the cab door and passengers show their money to the driver, then slide it into the box. At the end of a shift, drivers simply empty the cash boxes into the paying in machine so shouldn't need to come into contact with any cash during the day.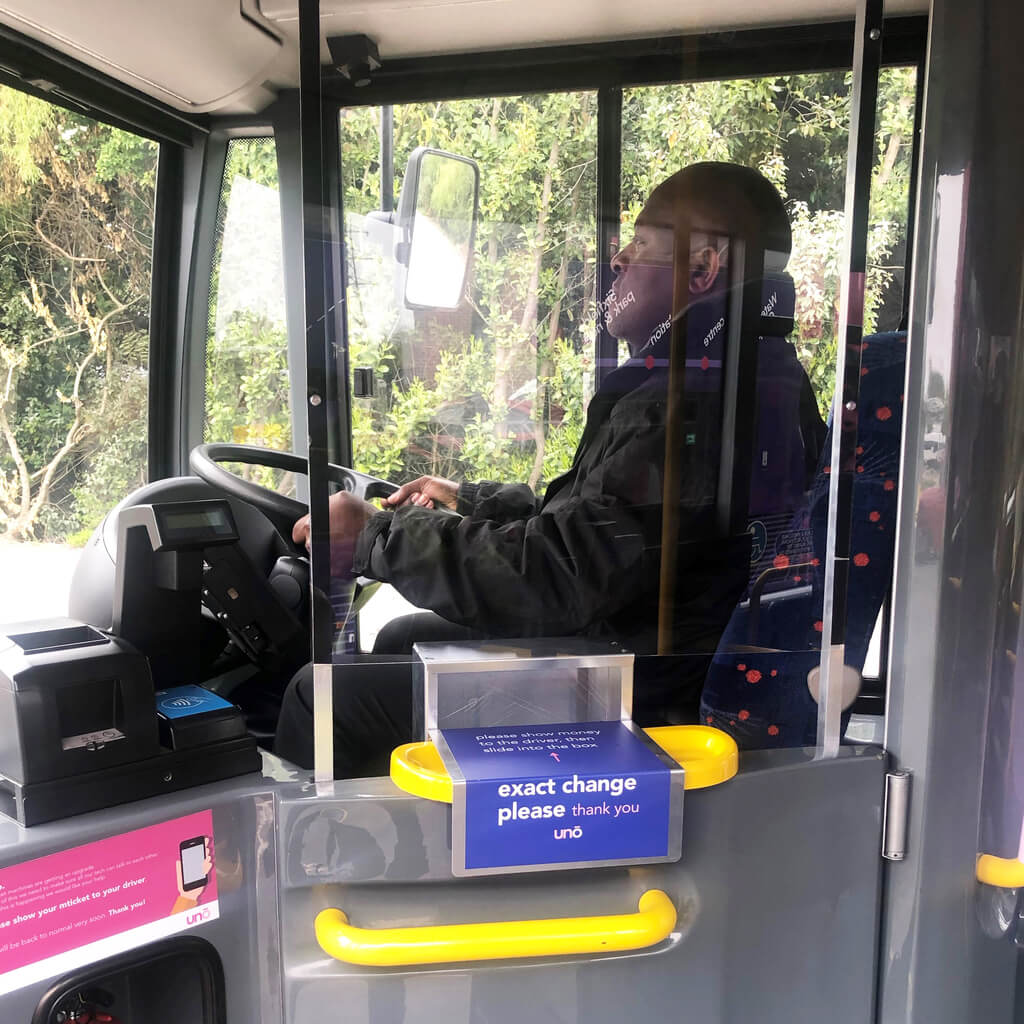 Other measures introduced by Uno to protect its staff and passengers include:
On-bus signage about social distancing and reminders to switch to contactless or M-ticket payments wherever possible;
Front seats cordoned off with specially made banners;
Temporary clear plastic screens installed on the driver's cab door on all buses in regular use;
Floor graphics reminding passengers to keep their distance while onboard;
Enhanced cleaning of all buses, staff pool cars, offices, workshops and staff rest areas
Face masks and shields issued to all front-line staff along with regular supplies of disposable gloves and hand sanitiser; and
Bottled drinks and breakfast bars given out regularly.
Ed Cameron, Commercial Manager at Uno, said: "We really appreciate the challenging situation that our drivers are faced with and this is an ideal solution to stop them regularly handling cash with the obvious risk it brings.
"We worked closely with Ward Jones Commercials to design and make up a prototype, who then produced and delivered enough cash boxes for us to make the switch in less than a week. We're really impressed with the build quality and how quickly they responded to getting the new system implemented with us."
Uno's exact fare policy will be in place until the risk of contamination has reduced.
Meanwhile, at Go North East, anyone making an essential journey is encouraged to pay for their ticket with a contactless bankcard, Apple Pay, Google Pay or Samsung Pay.
Customers also have the ability to buy their ticket in advance on the Go North East app with a range of day, weekly and monthly options available.
Following the introduction of the exact fare policy on Monday 27, drivers now have a tube/bag for the cash to be placed in so they do not need to physically touch it, helping minimise the risk of spreading infection.
Martijn Gilbert, Managing Director at Go North East, said: "This is the latest change we've made to improve safety for both our workforce and our customers.
"We're doing everything we can to make sure key workers and essential journeys can still be made in the safest way possible. We know that not everyone has the option to pay by a contactless bankcard and that's why we're still going to be accepting cash, but using an 'exact fare' system so our drivers don't have to physically handle it or give change."