Go North East has announced its partnership with the World Transplant Games. As part of this collaboration, competitors, team delegates and the volunteers which support the World Transplant Games, will all be eligible for free travel on Go North East buses.
The Games take place from 17 until 23 August, and activities include archery, athletics, badminton, cycling, darts, football, golf, tennis, squash, swimming and volleyball.
Mark Ellis, Development Manager at Go North East, said: "With events taking place in Washington, Hetton Country Park and Gateshead Stadium, the bus is a great option for competitors and volunteers to travel sustainably.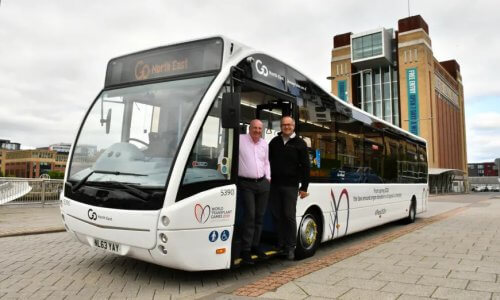 "We're delighted to be a partner with the World Transplant Games and to help promote organ donation in the future with our uniquely branded bus.
"Transplantation is hugely important, and I know a heart transplant recipient and the difference it's made for her and her family."
Graham Wylie, Chair of the World Transplant Games NewcastleGateshead 2019, added: "We are extremely grateful for Go North East's support of the World Transplant Games, as great public transport plays a huge part in a successful event.
"Allowing free travel on bus services through the North East is a great help to us as we transport 2,300 participants, their supporters and volunteers around the region.
"The Games are an inspiring event that celebrates a second chance of living life to the full and raises public awareness of organ and tissue donation. We have received amazing support from businesses which will help us to deliver the best World Transplant Games ever in NewcastleGateshead."