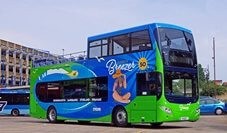 Order includes three open-toppers, with all buses given Breezer branding designed by Best Impressions
Go South Coast is taking delivery of 12 new MCV-bodied Volvo B5TL Euro 6 buses with several different roof configurations.
The order is comprised of three open top vehicles, which will be deployed on the Morebus Purbeck Breezer 50 route, encompassing Bournemouth, Sandbanks, Studland and Swanage.
Three closed top buses are set for use on Purbeck Breezer 40 route covering Poole, Corfe Castle and Swanage. A further six closed tops, all featuring demountable roofs, are being delivered this autumn and will also be utilised on the Purbeck Breezer 50 route.
The open top buses have seating for 73 passengers and 23 standees, while the closed tops offer 75 seats with 21 standing.
Andrew Wickham, Managing Director for Go South Coast, said: "We had very specific requirements for the type of vehicle we needed for these busy routes and we've had good experiences from our previous purchases and almost one-third of our existing fleet is Volvo, so we had no hesitation in going for them again this time.
"It is important we provide the very best possible service our customers have come to expect and as such, our challenging specification was for these three bespoke designed vehicle bodies.
"In addition, it was important to have buses with the right manoeuvrability and flexibility to cope with getting on and off the ferry. MCV was able to adapt the vehicle underside approach and departure angles to accommodate this and with the Volvo B5TL chassis, the package fits the bill perfectly for us.
"Aftermarket service is also particularly important to us and we have a very good relationship with MC Truck & Bus in Southampton, which was another reason for us going with Volvo for this very special order."
Ashraf Fawzi, Managing Director of MCV Bus & Coach, said: "We worked closely with both Volvo and Go South Coast to deliver their very specific requirements for this project. This included the livery and interior design as well as other important interior features such as full security CCTV, LED destination display and an automatic fire suppression system.
"On the open top vehicles, the canopy covers half of the upper deck and includes a specific door and partition section for ultimate passenger comfort during the winter months.
"On the six demountable roof buses, the whole roof can be removed for the summer period to create a complete open top bus, which is then very easily returned to a closed top for the winter. These design innovations provide a truly flexible and effective solution for the operator and their customers alike.
"The Breezers will be instantly recognisable when transporting local people and visitors across the beautiful south coast, with the particularly striking four-colour design, the work of renowned designer Ray Stenning and his team at Best Impressions."
Phil Fletcher, Volvo Bus Fleet Sales Manager – South, added: "In addition to the excellent operational performance and fuel economy offered by the B5TL chassis, in conjunction with MCV we've been able to deliver 12 specialist bespoke vehicles with the required level of flexibility for year round operation."