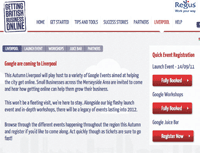 Google is to throw its worldwide weight behind a scheme to help small businesses.
The search engine's UK arm is unveiling a scheme in Liverpool which offers local firms advice and support to increase their online potential.
The three-month pilot, which may be rolled out to other parts of the UK if successful, will see around 1,500 businesses in Merseyside given free access to one-on-one digital support, including how to "build a website in 15 minutes". Across the wider North West region, Google staff will support a new technology hub, DoES Liverpool, in a bid to work more closely with software developers across the area.
Raja Saggi, head of small business initiatives for Google UK, said: "The internet has created huge opportunities, but many business owners feel they don't have the expertise they need to help their businesses grow online.
"This is the first time we have ever run a series of events aimed at helping one city, and we'll be working hard with our partners to make a real difference to Liverpool's internet economy over the coming months.
"With Liverpool's strong business networks and sense of community, we believe this is the best city to run such an initiative."
The Getting Liverpool Business Online scheme will be launched by Google UK's managing director, Matt Brittin, in Liverpool.