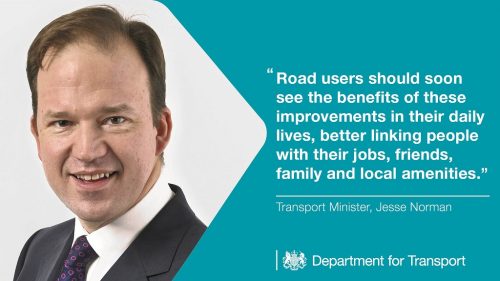 Transport Minister Jesse Norman (Conservative, Hereford & South Herefordshire) has unveiled a £6.1 billion programme of road improvements as part of the government's £23 billion upgrade to the road network in England.
It includes the route for the new A19 Downhill Lane junction which has been published on Friday (June 30). The new interchange will support the new international manufacturing park by significantly increasing road capacity, easing traffic and improving safety — as well as boosting the local economy.
Over the coming six months, the Government will take the next steps on 55 road improvements projects across England, including opening eight schemes, consulting on 10 schemes and publishing final plans for another 29 schemes.
Upgrades include adding capacity to sections of the A1 in Northumberland. This shortens journey times, supports economic growth and improves access to and from the county.
Road users will also see proposals to increase capacity at the A12 Colchester Bypass to reduce delays and will also see a new strategic corridor to the south-west via the A303, which will improve journey times and enhance Stonhenge, the world heritage site.
Other improvements include a more efficient Junction 19 on the M6 and an upgrade to the link between the Port of Liverpool and the motorway network.
The announcements are important next steps to progress the schemes announced in the 2014 road investment strategy, which outlines how £15.2 billion will be invested in England's strategic roads between 2015 and 2021.
Transport Minister Jesse Norman said: "In addition to this, I soon plan to announce the winners of the 2017 to 2018 highways maintenance challenge fund, where the Government will be investing £75 million to improve smaller local roads including through resurfacing, filling potholes and other infrastructure projects."
The news was welcomed by the Road Haulage Association. Richard Burnett, the trade body's Chief Executive said: "We welcome the Government's clarity that £6.1bn of the £23 billion pledged by the previous administration is to be spent on further improving England's road network. Traffic congestion has a massive impact on all road users and is bad for pollution as well."