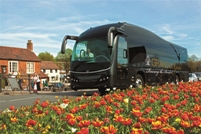 New luxury Gold brand for Grand UK in 2012
Norwich-based tour operator Grand UK Holidays is to segment its product range with the launch a new coach brand to cater for growing demand for luxury escorted tours in 2012.
The service will be named Grand UK Gold and will offer luxury Plaxton Elite coaches in a stylish livery, accommodation in top hotels and special extras such as a welcome reception and commemorative photograph.
The specification of the 'Gold' coaches includes reclining leather seats, extra legroom and individual air-conditioning. Passengers can track the progress of their tour using the onboard satellite navigation system and will also have access to a library.
Parent firm of Grand UK, the UK Holiday Group, has purchased many of the new 'Gold' coaches.
Asked by CBW about the numbers concerned, operations director Neal Fletcher replied: "The fleet size will obviously depend on how popular this concept is, but at the moment it is selling very well, so we expect to continue to order this type of vehicle as we head into 2012."
Harold Burke, sales director at Grand UK, said: "We are excited by this fresh concept, which will usher in a new era of first-class tours.
"We have seen increased bookings over recent years for tours which feature upmarket accommodation so we are confident this new brand will cater for that growing demand – and attract new customers who may not have considered a coach holiday before."
Twenty 'Gold' tours are featured in the 2012 brochure, including the UK, Ireland and the Continent.