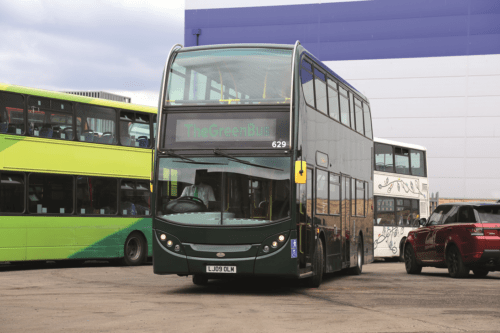 Green Bus, which only as recently as a couple of months ago suggested to CBW that is was preparing for a new school term, has given notice to withdraw its school routes before the start of the new school year. According to local media reports, 'hundreds' of pupils will have to find alternative ways of travelling to school and parents 'have been left panicking' following the West Midlands operator's announcement.
The operator is reported to have said it had been close to finding a replacement provider but that the new provider withdrew from the deal. Addressing the parents, Chief Executive Ian Mack said the decision had been made due to the costs of providing services now exceeding the income received, and that he had had to let staff go. "Sadly, it is simply unsustainable for small operators to survive in the rapidly-declining marketplace for local bus services," he said.
One parent told the BBC that he could drop and collect his daughter in the short term but a new bus operator was needed. "It's galvanised a lot of people into action, there are lots of people contacting local bus providers, but we're kind of at the mercy of Warwickshire Council as they need to fix the problem," he said, adding that communication from Green Bus had been quite poor.
"Sending an email on a Saturday over a bank holiday weekend with so little time to make alternative arrangements is poor… but mostly I feel sorry for the drivers who have lost their jobs," he added.
One of the affected schools said that transport arrangements were the responsibility of parents but it had begun liaising with other schools, local authorities and transport providers to explore potential solutions as a result of The Green Bus' 'incredibly late decision.'
The BBC noted that accounts lodged at Companies House up to July 2022 show that the firm owed more than £1m and, although it was owed £1.3m, the balance in its bank account stood at just over £44,000. The firm said that a 38.1% increase in its insurance premium from August made its networks financially unsustainable.