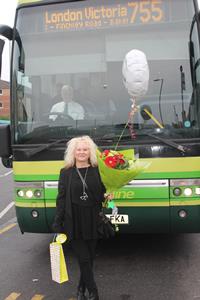 Arriva-run Green Line had a surprise for one its customers after they celebrated 30 years of commuting on-board the Luton to London coach.
Jacquelyn Andrews, who works as a Legal PA in Central London, was surprised on her morning journey on Friday, May 13, by the Green Line team who wanted to thank her for being one of their most frequent and loyal passengers. She was presented with a special balloon, bouquet of flowers and a bottle of champagne as a token of the operator's appreciation.
"For those who choose to work in London, I cannot recommend the coach enough as a relaxing way of commuting," explained Jacquelyn, who was born and still lives in Luton.
"You are guaranteed a seat, its cosy enough to have a kip (which is vital when you work a long day) and you can get to watch the world go by too.
"This service has been reliably and safely getting me to work all these years, I have made some amazing friends, there is a little commuting family, and whether there is snow, flooding, road closures, accidents, come hell or high water, they will find a route to get you where you want to go."
Linsey Frostick, General Manager for Arriva, which operates the Green Line 757 and commuter 755 services, said: "Jacquelyn is the perfect passenger, and it continues to be a pleasure having her on-board.
"We can't quite believe it's been 30 years since she first hopped on a Green Line coach, but we know how much she likes a celebration, so it seemed only right we do something to show her our gratitude. We hope she enjoyed her surprise and wish her many more happy years of commuting."