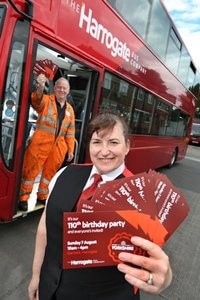 The Harrogate Bus Company, part of Transdev Blazefield group, has celebrated 110 years of service to the town.
The operator threw a party with live music and dancing, stalls, displays and a funfair, vintage bus rides to and from Harrogate and Knaresborough, and a bar serving a specially-brewed 110th birthday beer.
The event was held at the operator's headquarters on Broughton Way in Starbeck, on Sunday, August 7, between 1000 and 1600hrs.
Transdev Blazefield CEO, Alex Hornby, said: "This event is our way of saying thank you to the people in and around Harrogate who travel with us every day.
"It's also a chance to look back with pride at 110 years of service by us and our predecessors in the town – and forward to the exciting new developments we have coming up, including Harrogate's first all-electric powered buses, live electronic bus information at key stops, and amazing buses for our busy service 1 in Harrogate and Knaresborough, with free WiFi and USB power on-board."