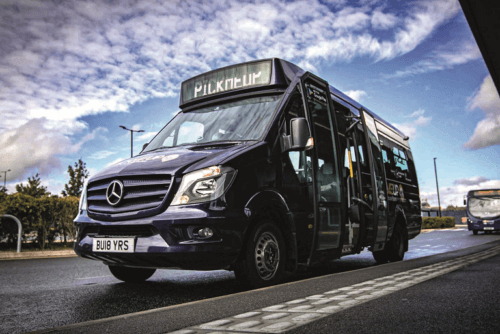 More than 10,000 journeys have been made on the PickMeUp demand responsive service operated by Carousel Buses in High Wycombe since the service was launched, the operator reports. The landmark was reached in late December, ten weeks after the service was launched using funding from Buckinghamshire Council via the Government's Rural Mobility Fund.
Luke Marion, Carousel Buses Interim Managing Director said: "To break the 10,000 passengers journey barrier ahead of schedule is a great landmark achievement. We've experienced a highly positive response to the service, with more than 3,400 people in the area having signed up already. We believe it further demonstrates demand responsive transport can play a key role in helping improve air quality and traffic congestion in the UK in conjunction with traditional bus services."
Mark Anderson, Customer and Commercial Director at Carousel Buses' parent company the Go-Ahead Group, said: "It's fantastic to see this on-demand service proving so popular. Go-Ahead operates buses up and down the country and we're keen to use new technology to make our services as convenient as possible for passengers. We believe on-demand services could fill gaps on the fringes of towns and cities which aren't always well served by traditional, fixed bus routes."
Steven Broadbent, Buckinghamshire Council's Cabinet Member for Transport, added: "It's great to see how popular this pilot scheme in High Wycombe has become. While there is a comprehensive existing bus network in the town, there are some areas the main buses can't serve, due to location, demand for the bus, or the size of the vehicle. In addition to expanding the bus network in the High Wycombe area, the new ride-sharing service is also proving to be a convenient and affordable option for commuters, as well as visitors to the college, hospital and town centre."
PickMeUp operates Monday to Friday in High Wycombe between 0600 and 1900hrs. Trips costs between £2 and £3.50 depending on the distance travelled, in line with local bus services.