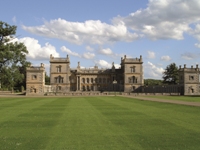 Grimsthorpe Castle, near Bourne in south Lincolnshire is set in a picturesque 3,000 acre park of pastures, lakes and woodland. The vast country estate has been home of the de Eresby family since 1516, and is currently owned by Jane Heathcote-Drummond- Willoughby, 28th Baroness Willoughby de Eresby.
Group activities include castle, park and garden tours, "How Grimsthorpe Works" – an allinclusive lecture and tour with meals, and garden study days.
Grimsthorpe Castle group admission prices range from £7.95 per person for a tour, to £26 per person for the full-day activities for groups of 15 plus. The admission charge is waived for group leaders of parties of 30 plus.
The new season starts on April 1 accompanied by special group offers for 2012. These include a castle and park tour with lunch for £14.99 per person and a castle and park tour with cream teas for £11.99 per person. Prices relate to pre-booked visits.
The castle also has an adventure playground, a shop and a tearoom on site.
For more information on special events, a full pricing guide and opening times visit www.grimsthorpe.co.uk