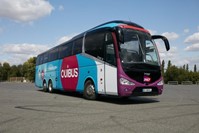 FRANCE Known as iDBUS for the past three years, the SNCF long distance coaching subsidiary, which ahs routes operating into London has been rebranded OUIBUS. 'Oui to travel across France, oui to inexpensive holidays, oui to high-quality travel," says the company. "With OUIBUS, say OUI to travel for all!"
OUIBUS is aiming to become a leader in long-distance coach travel combining low prices with high quality service, and describing its vehicles as spacious and comfortable. Features such as WiFi, power points and satellite tracking have all been specified. Special customer training has also been given to drivers to ensure that a professional service is delivered.
"OUIBUS encourages mobility and simplifies travel across France and to major European cities," says the company.