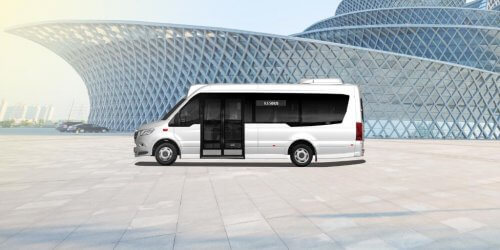 Bridgend-based Ilesbus UK Ltd has announced the addition of a new Mercedes-Benz Sprinter low-floor wheelchair accessible mini coach to its current lineup of vehicles.
Based on the new 5.5t Sprinter with a seating capacity of up to 17 seats and up to six standees, one wheelchair can be carried in the low-floor section with easy access being through the larger than standard 1400mm twin opening electric door. The interior will also be finished to Ilesbus' usual high standards.
Along with the Mercedes-Benz Sprinter, Ilesbus UK has also added a PSVAR version of its 36-seat Calista, which is based on the Mercedes-Benz Atego or MAN TGL chassis, and an Iveco Daily 29-seat PSVAR midi coach. A low-floor Iveco Daily is also in development and will be available by the end of this year.