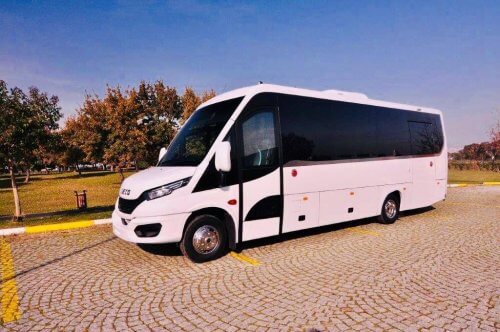 New model options for UK customers have seen a surge in orders for Ilesbus, which has also announced further expansion.
Ilesbus UK Ltd has launched a new PSVAR-compliant midi coach, based on the Iveco Daily 17c21 with a 210bhp engine. The new model is named the Ilesbus Glance and standard features include LED headlights, automatic handbrake, Telma retarder, rear air suspension and in-dash air-conditioning.
The exterior incorporates Ilesbus' distinctive styling and features a large entry door and LED destination boards to the front, side and rear. A door on the nearside opens to reveal the fully automatic wheelchair lift. Luggage space has also been retained with a good size rear boot and the addition of full-length side lockers on both sides of the vehicle.
The interior is well appointed, with full size reclining seats, large panoramic windows, special lighting features, 14kW air-conditioning, heating, TV with DVD and more.
Seven days after the launch, Ilesbus has already taken orders for a total of six vehicles. These orders are made up of Anderson Travel of London, which is taking three; Johnson Bros. which is taking two; and BWS Peris of Llanberis North Wales, who will take one vehicle.
Gary Johns, Sales Director of Ilesbus UK Ltd told CBW: "I would like to thank each customer for their orders. We currently have a demonstration vehicle available – please call 01656 670050 for further details on how to view the new model."
Additionally, the company has announced that it has appointed J J Kavanagh & Sons Bus and Coach Sales of Urlingford, Kilkenny as its agents for the whole product range in Ireland and Northern Ireland.
As well as selling new vehicles, it will also carry out all aftersales services on the vehicles in Ireland and Northern Ireland, so customers can buy in confidence knowing that they have a full back up service.
New vehicles will be on display at the showroom in Main Street, Urlingford, Kilkenny where Mick and his team are always ready to give customers a warm welcome. Mick can be contacted on 086 172 4533.