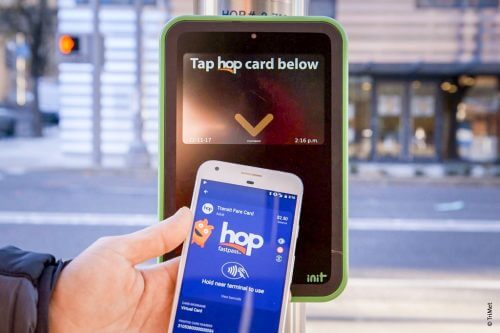 The Tri-County Metropolitan Transportation District (TriMet) in Oregon, USA, recently announced the beta launch of the first 'virtual public transit card' via Android Pay.
Through a partnership just announced with Google, select TriMet passengers can now tap and pay their fare using a virtual Hop card stored securely in their Android smartphone with Near Field Communication (NFC).
The development is the result of a partnership between TriMet, Moovel – the provider of the Hop Fastpass mobile app – and INIT.
INIT's back-end processing system, MOBILEvario, serves as the core intelligence for the project, processing all forms of payment for the multi-agency system including physical debit or credit cards or digital versions stored in Android Pay, Apple Pay and Samsung pay, and now virtual Hop Fastpass transit cards via Android Pay.
When a rider taps their device to any of the 1,200 INIT PROXmobil validators, MOBILEvario calculates the fare, validates the transaction against the back office account, and displays the fare validation result to the rider in real-time.
Since all transactions are performed against the back office, riders can get accurate and up-to-date account information anytime and any place.
The Hop Fastpass system was designed following an open architecture approach, allowing easy integration with partners like Google. Due to the open architecture design, more than a dozen partners associated with the project were integrated without changes to the core system.
INIT's first open payments system in Portland-Vancouver has experienced more than 1 million taps since its initial launch in July of 2017.
Virtual Hop cards via Android Pay are expected to be available to users of Android smartphones in early 2018, pending the success of the agency's beta test.