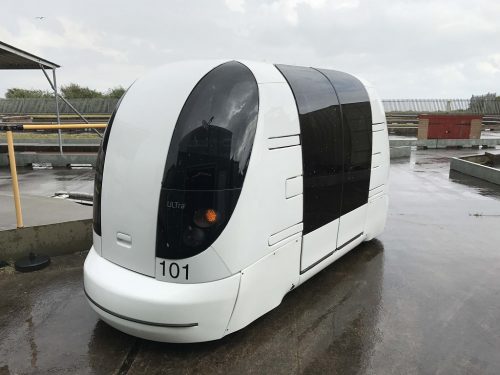 Last week (May 29 – June 2) an autonomous pod from the INSIGHT project was displayed to the public in Birmingham.
The Pods, which are designed to help plug the gap for short low-speed journeys, are described by the project team as a 'last mile' transport solution, being ideally suited to moving people and luggage between local railway stations, hospitals and car parks.
The vehicles are equipped with sophisticated 3D-imaging systems and sensors which are designed to enable the Pod to navigate through pedestrian areas while ensuring the safety of passengers, pedestrians, road users and other vehicles. The vehicles also include several innovative features specifically designed to support visually impaired members of society.
One of the Pods was shown at the Thinktank Science Garden in Birmingham's Eastside.
The INSIGHT project team is an industry and academia partnership, made up of Birmingham City University, Heathrow Enterprises Ltd, Fusion Processing Ltd Westfield Sportscars Ltd (Lead Partner) and Conigital Ltd.
Speaking ahead of the event, Dr Umar Daraz, Director for the Institute of Sustainable Futures at Birmingham City University, said: "We are really excited about giving local people the opportunity to see one of these vehicles and to find out more about what the project is doing and importantly influence the Pods' future development.
"It is great that we will also be able to give blind and visually impaired groups the chance to give their feedback on the Pods, which will be key to fine tuning them and making sure they meet the needs of users who may have difficulty travelling independently."