Irizar has announced that it is now offering factory conversions to meet the Public Service Vehicle Accessibility Regulations (PSVAR) standard on new and used Irizar i6 and i6S UK vehicles.
At a time when the markets for traditional tour and holiday services are still depressed, many coach operators are reporting increasing demand from contract customers for PSVAR-compliant vehicles in sectors such as rail-replacement and education, and Irizar is now offering the service to make vehicles wheelchair accessible and fit them with destination equipment.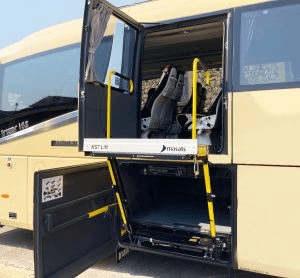 The conversions, carried out at the Irizar factory in Spain, include a Masats KS7 cassette type semi-automatic wheelchair lift in the luggage compartment, a wheelchair door, floor tracking with a Tecam quick-release seat system and appropriate restraints to enable the carriage of one wheelchair, as well as front, side and rear Hanover destination screens.
Irizar has carried out an engineering body frame study, to allow it to ensure that all required modifications and reinforcements do not impact ECE R66 roll over regulations and that the quality of fit and finish is high.
All the vehicles converted at Irizar will be supplied with a Certificate of Approval and carry a two-year Irizar guarantee on the conversion. The first vehicle has already been completed at the factory and a programme, including a mix of stock vehicles and customers' own fleet coaches is commencing immediately to fulfil the growing demand. Operators interested in this PSVAR conversion on Irizar i6 and i6S vehicles can contact their main contractor for more information.
Julie Hartley at Irizar's new UK Sales Centre said: "We're very positive about this development, we are confident it is going to be a top quality conversion at an acceptable market price point. Irizar has put an awful lot of time and consideration into the quality and structural integrity of the conversion. It's a huge plus to be able to take the vehicle back to the factory."
Martin West, Scania's UK Sales Director, said that Scania has some stock arriving which is already compliant to meet PSVAR specification, and it has sent a small sample of used vehicles over to Irizar in Spain for conversion in the coming weeks. Once these coaches are back and fully completed and certified, Scania will decide on the final specification for each model, and will be able to provide full details of both the specification and process for facilitating conversions in due course.
PSVAR requires vehicles with a passenger capacity of 22 or more on scheduled services to be accessible to wheelchair users, and show clear destination information. Rail replacement vehicles must be compliant by 20 December 2020, although some contracts already insist on it. For home-to-school services it becomes compulsory by the end of July 2021.