SWEDEN
Irizar e-mobility was one of the manufacturers that attended the Global Public Transport Summit organised by UITP in Stockholm from 9 to 12 June. On its stand it presented a 12m 'tram' and 18m articulated bus, which expand the Irizar Group's current range of zero-emission electric vehicles.
The battery system developed and manufactured by Irizar was also presented.
Irizar energy storage and management solutions are modular, lithium-Ion technology, and incorporate liquid cooling systems that enable the service life of the batteries to be optimised and make it possible for vehicles to operate in extreme weather conditions, says the manufacturer.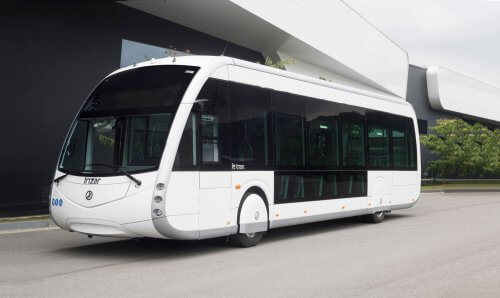 These include:
Energy pack for slow charging. The vehicle can travel the maximum number of km and complete the operation with a single daily charge;
Nano pack for fast charging. A balance between vehicle range and charging power, ideal for mixed operations, where the vehicle has sufficient battery life to operate during peak hours. The charge may be both slow and fast; and
Power pack for ultra-fast charging. This is the solution for 24/7 operation with charging of up to 600kW.
Irizar e-mobility provides completely customised turnkey electromobility solutions for cities, including 100% zero-emission electric vehicles, as well as the manufacture, installation and service maintenance of necessary infrastructure systems for charging, traction, and energy storage.
All have been designed and manufactured using 100% Group technology.
Different smart charging options are also offered to adapt different customer requirements (slow charging in depot, fast charging by pantograph, or in depot pantograph).
All are fully interoperable in accordance with Standards ISO 15118, DIN70121, OCPP 1.6 CE mark, EMC. 61000-6-2, 61000-6-4, IEC 61851, IEC 61000.
The service network is expanding and today it is possible to locate an authorised Irizar workshop for warranties everywhere the vehicles operate.
Irizar's strategy is to establish an exclusive high-quality aftersales service in cities where the vehicles operates, offering personalised R&M packages.
This is managed by technical experts and locally-hired employees, thus helping to create local wealth and jobs.
Read more news stories here: cbwmagazine.com/category/news