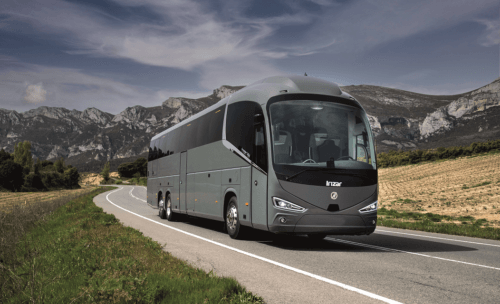 Irizar has launched what it says is the most efficient coach in its history with the unveiling of the new generation i6S model offering improved sustainability and profitability
Irizar's range of touring coaches has long been a familiar and popular choice among UK operators. At an online launch on 5 May, Irizar Group CEO Rafael Sterling introduced the latest generation of the Spanish manufacturer's range. "This latest generation vehicle is designed to give maximum efficiency for operators and the best experience for passengers," he announced. "Our goal was to maximise profitability for operators, and the reduction we achieved in operating costs exceeded all of our expectations."
The new coach promises a reduction in fuel consumption and emissions by up to 13%, alongside an overall weight down by 950kg and an aerodynamic coefficient 30% lower than previous models. Irizar says its aim is to provide maximum efficiency to operators, the best experience to passengers and to emphasise sustainability.
The manufacturer explained that aerodynamic performance is the key to its new generation of coaches: The front of the vehicle and roof has been modified, and the curvature of the windscreen and the other front windows have also been reworked to reduce air resistance as much as possible.
The coach also has the option to replace the rear view mirrors with a camera mirror system with the two-fold goal of providing wide-angle vision in any weather conditions as well as improving aerodynamics.
Another major challenge was reducing weight; Irizar has managed a reduction of 950kg by analysing the weight of individual components, and the new model also features improved weight distribution.
High strength steel and lighter composite materials have been used instead of traditional structural materials, which Irizar says has allowed it to increase the space for passengers and to improve ergonomics and comfort as well as reduce noise and vibrations. The driver's area has been redesigned to be more comfortable and ergonomic and have a larger field of vision, and the coach is fitted with the latest Hispacold climate control devices which is more compact, more efficient and lighter.
The i6S Efficient has a new multiplexed architecture and communications protocol which can give self-diagnosis services in real time, allowing for preventive maintenance and online monitoring for remote diagnostics. With connectivity systems developed by Datik, data and usage statistics for the vehicle are stored in the cloud which Irizar says will allow operators to maximise profitability, optimise route planning and minimise maintenance costs.
The coach also has what the manufacturer says are the most advanced active safety systems for preventing accidents, alongside a reinforced structure that improves its response to torsion, flexing and head-on collisions, as well as improving its passive safety.
Irizar explained that exhaustive aerodynamic studies and tests using simulators and measurements on real test circuits have shown an exceptional 30% improvement in the aerodynamic coefficient and a reduction of up to 13% in fuel consumption and emissions. The coach is suitable for diesel, biodiesel, natural gas, biogas and has been designed to be adapted to future zero-emission drivetrains.
Julie Hartley, Irizar UK's Sales Director, commented: "We are looking forward to receiving the first right hand drive Integral in the UK next month and introducing it to operators through the summer. With fuel prices showing no signs of reducing, the benefit of the increased efficiency will be substantial with a positive impact on total cost of ownership."
The coach will also be available on a Scania chassis. Lee Wale, Scania's UK Retail Sales Manager, added: "We have been a partnership with Irizar building vehicles together for the UK market since 1992, and we are extremely excited to offer the new Irizar i6 Efficient range with the new generation Scania chassis that will be launched later this year.
"We currently have an i6S Efficient in build at the Irizar factory which will be on the stand at the NEC show in November. The fuel savings of both the new generation chassis combined with the i6S Efficient body will be extremely welcomed by customers especially with the price of fuel at the moment."
"I'm extremely proud of the work the Irizar team has done," Rafael added. Market-specific versions will be demonstrated in different countries later this year, and the coach will be available in lengths from 10.8m on two axles to 14.9m on three axles.