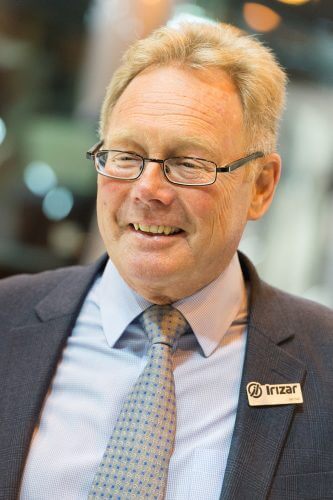 Ian will be retained on a consultancy basis and continue to attend industry events
Ian Hall is to retire as one of the founding directors of Irizar UK Ltd at the end of May 2018.
Besides the day-to-day running of the business in Worksop, he also handles coach sales in Scotland.
Ian joined Steve O'Neill as Sales Director of the fledgling Irizar UK Ltd in 2011, having moved from finance into coach sales in 1991, first with Stuart Johnson Ltd, then the successor Scania companies, before forming BASE Ltd, with the Aspinall family.
"I jumped at the chance to work with Steve O'Neill, who I had known as a customer from his time as Managing Director of The Kings Ferry, and a friend, for many years, when Irizar's UK operation started in 2011," Ian recalled.
"I'd had an excellent relationship with the Spanish manufacturer, as it was my responsibility to sell it into the UK as coach bodywork for Scania. In the seven years since the formation of Irizar UK Ltd, we built the business to £25m turnover, and have delivered 350 premium-quality integral coaches to UK operators: a number that we expect to pass 400 by the end of the year.
"We have also been very fortunate in the others we had around us in that time: fellow director Juan Irigoyen who provides important liaison with the Spanish home company; Financial Director Bill Moore, After-Care Manager Rob McDonald, and the rest of the team we appointed subsequently. Without them, we couldn't have created the business that we did."
In 2014, aged 60, Ian had a cardiac arrest at home, but his decision to retire is not health-related.
"The survival rate for that is just 6%," he said. "But I was very fortunate to receive prompt and effective treatment. It proved to be a failed artery: so it wasn't symptomatic of underlying disease or lifestyle factors, and I made a full recovery.
"When I took on the Irizar UK project, I promised the factory a 10-year commitment to build the business up to an established level. "We've got there earlier than anticipated, and I'm able to hand over a clean business with great people to carry it forward. I will be retained on a consultancy basis to help with shows, factory visits and so on.
"This is coming at an appropriate moment in my life: the youngest of my three daughters is completing her education and is about to begin a career, and my wife Pam and myself are now looking forward for refurbishing the old family home for resale, and downsizing.
"After all these years in the industry, most of my customers became friends, and we will keep in touch. The annual bike trip is already organised for the end of September."
Steve O'Neill, Ian's co-director at Irizar UK, commented: "I met Ian back in 1994 when he first introduced the Irizar product to the UK and we purchased one of the first units at The Kings Ferry. We created a good working relationship then, so I was really pleased to get the opportunity to work alongside Ian when we formed Irizar UK.
"It's been a great seven years working together and they'll be a big gap left behind, we all wish him the very best relaxing in his retirement and we know he'll be making the most of it."