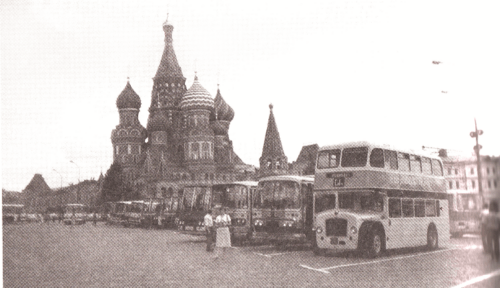 In the first instalment of a two-part article, Alan Payling tells the story of one of the UK's most adventurous bus companies, Top Deck Travel, that was part of the overland bus travel boom of the 1970s. This was a bus operator for whom no distance was too far, any difficulty like civil war could be overcome and which made travelling by bus a fun part of growing up

You may recall that truly hoary old joke about bus travel that used to circulate many years ago. Usually it appeared in cartoon form, but I must admit that I did hear people re-telling it verbally way back when. Comedy wasn't their day job, it must be said. The cartoon depicted a harassed bus conductor standing on the platform being asked by a prospective passenger if his bus was going to Marble Arch. 'No', says the conductor. The passenger says: 'But it says Marble Arch on the front of the bus!' The conductor wearily replies: 'Well, it says India on the tyres and we're not going there either.' Ho ho. Sorry to resurrect such a sad old joke, but back in the 1970s, had you asked the crew of some of the buses operating out of London if they were actually going to India, when they replied that they were, they would not have been joking. In fact, the terminus for some of the overland bus operators of the day was a good bit further east, in Kathmandu in Nepal, while for the company featured in this article, it was Sydney – yes, the Australian one.

The bus operator offering a regular service half way round the world was Top Deck Travel, which was based in Earls Court, London. And the buses they used? Bristol Lodekkas. And as for what Top Deck Travel offered, this was not a bus journey or a trip. It wasn't an excursion, an outing or a tour. What they offered really must be seen as an odyssey that would even have impressed Homer himself; the ancient Greek one, that is, but even his droll Simpson namesake would have been very impressed by the company's daring do.

Go east young people, go east

Just after the American civil war, one of the famous slogans of the day was: 'Go west young man, go west.' As the frontier was opening up and the western part of America was being colonised, there were boundless opportunities for enrichment and adventure. In Europe in the 1960s and 1970s, the watchword for many young people was more like: 'Go south or east, man, go south or east.' As the post-war baby boomers were coming of age they were looking for adventure, fun and in some cases, enlightenment.

[…]

By subscribing you will benefit from:
Operator & Supplier Profiles
Face-to-Face Interviews
Lastest News
Test Drives and Reviews
Legal Updates
Route Focus
Industry Insider Opinions
Passenger Perspective
Vehicle Launches
and much more!