FRANCE
More than 80% of Dracénie's fleet will be powered by natural gas after 37 Iveco Crossway Natural Power coaches are delivered.
Thirty-seven Crossway Natural Power (NP) coaches will be operated by Beltrame Group by the end of 2019. Delivery will be to Dracénie Regional Council (Dracénie Provence Verdon agglomeration (DPVA)).
A commitment charter to promote energy transition was signed by the DPVA, Iveco Bus and Beltrame Group during a reception held in Draguignan in the presence of a number of local and regional political dignitaries where guests were able to test drive a Crossway NP and a Daily Blue Power NP.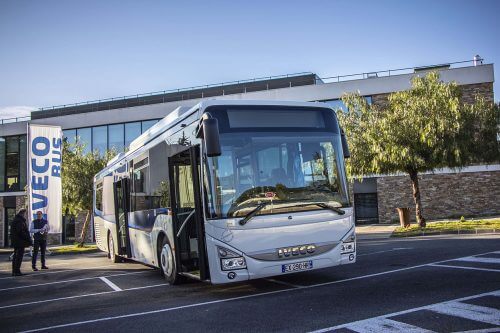 "We chose to renew our fleet with natural gas vehicles to protect the environment and to meet energy transition legislation," said Frédéric Decompte, DPVA's Transport Director.
"These vehicles will be used in the 23 towns that make up the region."
The DPVA operates 11 coaches itself and the balance are run by Beltrame Group. "We now have more than 270 coaches and buses, of which 60 are for the sole use of the region," said Anthony Beltrame, the Group's CEO.
"With this order, more than 80% of Dracénie's fleet will be powered by natural gas."
A further six Crossway Low Entry Natural Power buses will be delivered in April 2019, the first Crossway LE CNG buses to operate in France.
In total, Beltrame Group will be adding 80 vehicles to its fleet, including four Daily Blue Power NPs which will be assigned for use in towns where they will operate on demand services.
To facilitate fuelling, Beltrame Group, in association with Pizzorno, is to install a CNG station that will also fuel the region's CNG trucks.
For more international news click here:https://cbwmagazine.com/category/international/