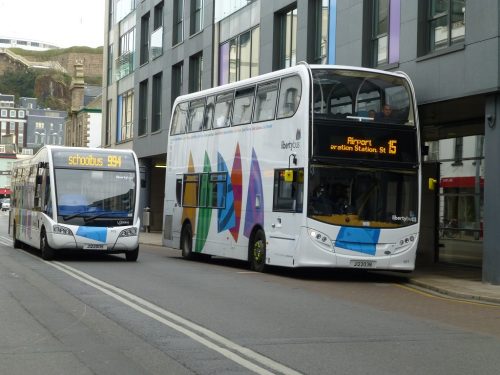 Study of 1,500 bus users also looks into the social interaction benefits of buses, independence granted to young people and disabled access
LibertyBus, HCT Group's Jersey operation, has launched its first social impact report.
The report is based on the findings of a large scale survey on the difference that a public bus service can make to people's lives.
The survey, which sampled the views of over 1,500 bus users, claimed that the service has a real social impact – particularly on the lives of older people, disabled people, young adults and new bus users.
One of the most significant findings was the financial impact of switching to the bus. The survey showed that 82% of people who had started using the bus over the last year had saved money as a consequence.
The survey claimed:
• 39% of older people said their social interaction had improved because of the bus service;
• 29% of disabled people said their access had improved because of the bus; and
• 40% of young adults said the bus service had given them more independence.
Kevin Hart, Director of Channel Islands, said: "LibertyBus is a social enterprise – an organisation whose defining mission is to make a positive difference to the community. It's not good enough to just say we do this – we have to measure our social impact.
"As a consequence, we have conducted what we believe to be the largest study ever of the social impact of a regular bus service.
"The findings confirm things we have long suspected. A high quality mainstream bus service brings people together, helps people to access opportunities and brings down barriers for older and disabled people – a genuine social impact."
LibertyBus has published a Social Impact Report which includes the statistics from the survey, alongside the stories of local bus users whose lives have been affected by the service.