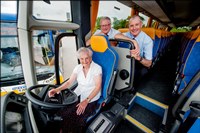 Joan Johnson, a Director at Johnsons of Henley-in-Arden, is to retire after 60 years.
From her first tour to Fort William to her last in Llandudno, Joan Johnson has travelled the length and breadth of Britain.
Joining the business in 1956, when the firm was only operating three coaches, a furniture removal lorry and a taxi, Joan juggled bringing up her five children with office work and coach driving, becoming one of the first female coach drivers in the UK.
Her career as a holiday courier started in 1981 when she and her son John operated the company's first inclusive tour. Since then, she has escorted more than 350 tours to places all over the UK, Europe and the world.
Since then, Joan has watched the award-winning business develop from strength to strength. It celebrated 100 years in business in 2009.
Joan commented: "I have enjoyed every minute of it and will miss working with our friendly drivers, lovely customers all the friends I have made over the years."
John Johnson, Joan's son and fellow Director, added: "Mum's probably done an average of just about 10 tours a year for the last 35 years, so that must be about 350 tours to just about everywhere in Britain and Europe, and many places worldwide too.
"Mum has always been available to help at short notice too, so she may need her clipboard again at some time!"