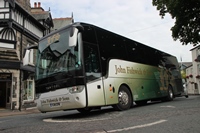 The familiar green livery of Leyland-based John Fishwick & Sons disappeared from the streets of Preston as operations ceased on October, 24.
Operating since 1907, the company was known for providing luxury international and UK holidays, as well as public transport services that were run synonymously within the Leyland, Preston and South Ribble areas.
Speculation began shortly before the weekend of closure, with many patrons claiming that they hadn't received any updates on their pre-booked holidays.
According to Lancashire Evening Post the company has contacted all of its customers via letter promising a refund.
Stagecoach has since taken over control of the 111 service, which was announced on a statement released on October, 23. According to the statement the change followed special dispensation given by the Traffic Commissioner to Stagecoach to allow this to happen at very short notice.
The route has been altered to incorporate more stops and a slight diversion, which has omitted one small part of the route in Golden Hill. However, Stagecoach has also issued a new timetable that offers a 12 minute frequency between Monday-Saturday and an all-day Sunday service that operates every 30 minutes.
All Fishwick and Sons passes will be accepted in the short-term with an update on the final day of use still imminent. The full range of Stagecoach tickets are also valid for travel and fall within the Preston ticket zone.
However, it seems that the future of the 119 service to Runshaw College, and services 109, 109A, 113 and 115 are still in question.