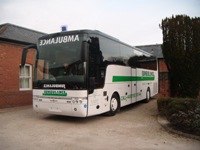 Jumbulance Trust has officially launched a new coach, or 'jumbo ambulance,' replacing two older vehicles.
The new Jumbulance, known as 'J2', is a Van Hool T915 Acron 12.2m two-axle and is powered by a DAF PR265 365bhp 9.2 litre engine with ZF AS-Tronic gearbox.
The vehicle features a large washroom and comprehensive kitchen, 16 seats and room for either four stretcher beds or five wheel chairs. It was officially launched on February 11 and is due to take its first group in the coming week. It will be used for day trips and holidays all over the UK and Europe, travelling as far afield as Austria, Italy and Southern France.
The vehicle was supplied by Arriva Bus and Coach in Cleckheaton, joining the Trust's tri-axle T917 Acron supplied three years ago, and effectively replaces two older vehicles – a 1988 T812 Alizee 'midi' and 1990 T816 Altano. This means the Jumbulance Trust has flexible and adaptable modern vehicles capable of being deployed on a wide variety of work, with the highest standard of comfort and safety.
The Jumbulance Trust is registered charity number 1090731. It can be reached on 01582 831444 or via email at [email protected]