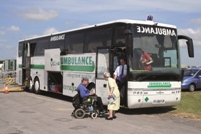 The Jumbulance Trust, a registered charity dedicated to providing holidays and trips for seriously disabled and sick people, has recently placed an order with Van Hool for a new 'Jumbulance.'
The purpose-built vehicle is based on Van Hool's T915 Acron design and is broadly similar to the Trust's existing Van Hool T917 Acron, only two metres shorter.
This £300,000 Jumbulance features large disabled washroom, full kitchen, medical facilities including oxygen and resuscitation equipment and a capacity of 20, including luxury seating, and tracking for a combination of beds and wheelchairs.
The old Jumbulance, was built by Van Hool in 1990 and has given tremendous service over 20 years, covering a huge mileage, but now needs replacing.
A spokesman told CBW: "The new design of 'Jumbulance', put into service two years ago, has been a big step forwards for all our groups, giving more comfort, space and convenience. The new vehicle will bring those benefits to more people when it is delivered early next year. Van Hool has built all Jumbulances since the mid- 1970s. Their design flexibility and quality of workmanship makes them hard to beat."
The new Jumbulance will be officially launched in January 2012.