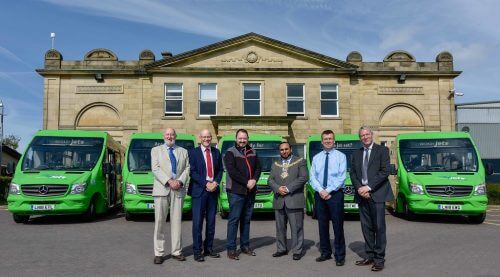 The Town Mayor helped launch the expanded service – and new vehicles – last week
Keighley Jets has seen its offering expand, with five new Mellor Stratas serving more of the town on a 'bigger and better' network – the result of a new partnership with West Yorkshire Combined Authority.
Operated by The Keighley Bus Company – part of Transdev – Keighley Jets is the town's frequent local bus network.
Eight new routes have been added to the network, taking the new buses closer to hundreds of homes – and creating new links for shopping, commuting and more.
Fares are remaining low, with a KZONE day ticket offering all-day travel around the town for £3.
Alex Hornby, CEO of The Keighley Bus Company, explained: "We've worked in partnership with the West Yorkshire Combined Authority to take over the eight additional routes and bring them into our popular Keighley Jets network.
"The new routes introduce a £0.5m investment in a smart and stylish new fleet of low-emission Mercedes-Benz buses, with bodywork proudly built here in the north of England. Each new bus is brimming with customer-friendly features and a bespoke designer finish to make travelling around town a pleasure.
"We're very much looking forward to welcoming new customers onto our new Keighley Jets network and these amazing new buses, driven by some of the best drivers around."
The Town Mayor of Keighley, Cllr Mohammed Nazam, joined The Keighley Bus Company team to celebrate the launch of the new Keighley Jets buses at the town's Victoria Hall.
Cllr Nazam said: "These new Keighley Jets buses are a wonderful asset to Keighley, and I'm looking forward to them becoming a familiar sight around our town.
"They'll make access to shops and services in Keighley easier for everyone, including senior citizens and those with a disability or mobility issues, and as more people switch to the Keighley Jets, we'll also see less congestion in our town centre."