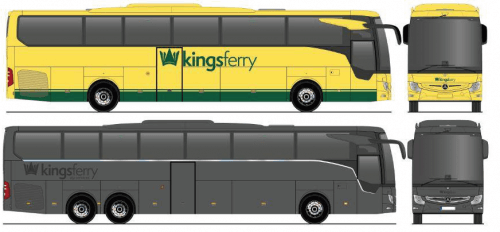 National Express-owned coach operator The Kings Ferry is taking delivery of new Mercedes-Benz Tourismos as part of its 2018 fleet order.
The new vehicles comprises 11 Tourismo M2 13m Touring+ with 53 Luxline seats; four Tourismo 14m Touring+ with 57 Luxline seats; and one Tourismo 14m Touring+ with 38 Luxline seats.
The Kings Ferry has remained loyal to the Mercedes-Benz brand and has continued to grow its Tourismo fleet with the latest model orders. The 16 new Euro 6 Tourismos purchased by the Gillingham, Kent-based operator will be used for a variety of work, with the 38-seater allocated to corporate charter duties.