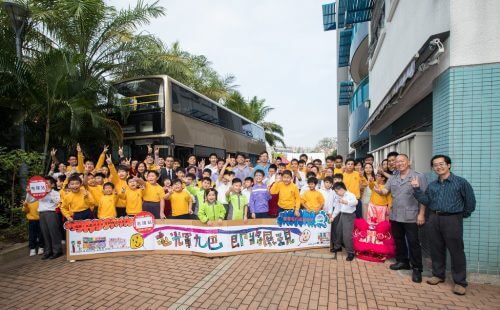 HONG KONG Students and teachers of Hong Chi Morninghope School in Tuen Mun will now be able to enjoy learning on a retired bus provided by The Kowloon Motor Bus Co (1933) Ltd (KMB) under its Used and Retired Bus Programme – a pilot programme for the donation of used and retired buses. This is the second school to receive a retired vehicle under the scheme.
The donated bus, a 12m Alexander-bodied Dennis Trident, will be regenerated as a learning venue for students who have special education needs. While the theme will change regularly, the retired bus will provide a real-life learning experience to support vocational training for secondary school students in the school. The students will have the opportunity to learn various skills including catering services, cleaning and decorating the bus compartment and waxing the bus body.
Under the Used and Retired Bus Programme, which was rolled out at the end of 2016, retired single-deck and double-deck buses will be donated to non-profit organisations. Applicants are required to submit a proposal detailing how the bus will be deployed, including a description of how it will meet the requirements of sustainable development and the educational purposes to which it will be put.