Go-Ahead subsidiary Konectbus, based in Norwich, has announced it intends to withdraw four routes in March and April this year.
Routes 87 and 88 – which currently operate Monday to Saturday between Bungay and Norwich – will be axed on Friday 1 March, while evening and Sunday buses operated for Norfolk County Council will continue until Sunday 31 March.
As a result of the changes, there will no longer be any through buses between Halesworth and Norwich – two separate tickets will be required.
However, the operator has pledged to reduce the price of its tickets between the two destinations to ensure customers won't have to pay any more than previously.
The company will continue to provide buses between Bungay, Poringland and Norwich on Sundays and bank holidays under contract to Norfolk County Council.
The journeys will be numbered 40A, 41A and 41, in line with the route numbers used along this corridor during the week by First.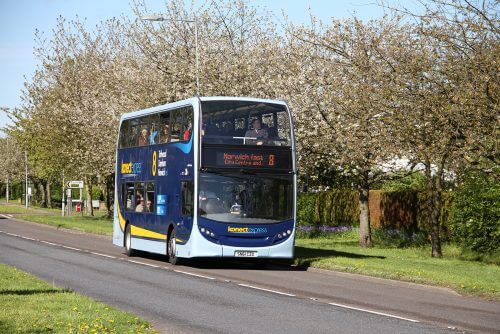 Route 272 will no longer be operated by Konectbus from 5 April and route 90 will leave the operator on 20 April, although Suffolk County Council is expected to appoint a replacement operator for both routes.
"The reason that we are withdrawing these routes is that they continue to run at a loss," the company said in a statement.
"We have sustained losses of several million pounds in our Beccles based operation in the last few years.
"This has been because of the loss of contracts to other companies, the decline in the rural bus market and high operating costs and poor reliability which we have been unable to address at a small operation that is remote from our main business.
"We have also suffered from direct competition from First Bus, whom most users now seem to prefer.
"We hope that First will have the good grace to step in and provide the extra facilities such as Sunday buses and the through route to Halesworth that we have hitherto provided, and not just focus on the profitable sections of route in Bungay and Poringland.
"We would like to thank our passengers who have supported these routes in the last few years."
For more news click here:http://cbwmagazine.com/category/news/