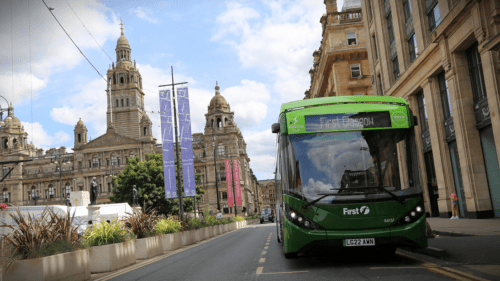 Over one in five people in Glasgow say that a lack of confidence in knowing how to travel by bus stops them from doing so, according to a recent survey by First Bus. The report found that younger respondents, aged 18-34, were nearly 10% more likely to report that low confidence prevents them from travelling by bus than counterparts aged 55 and upwards. The most common reasons cited were not knowing which bus to get on for their journey, which ticket to ask for and how much to pay, highlighting that there are still significant barriers to increasing bus use.
The data was shared by First Bus as part of a new campaign to help those in doubt to overcome their worries and improve their confidence. Designed to boost the public's confidence when it comes to bus travel, the campaign features a series of videos focused on planning your journey, buying tickets, as well as boarding and alighting from the bus.
Managing Director of First Bus Scotland Duncan Cameron said: "Bus is one of the cheapest and most environmentally friendly ways of getting around the city, and so we're keen to ensure that everyone has the confidence to jump on board and use it as their first choice of transport. We understand that if you've not used a bus in years, or if you didn't grow up hopping on and off buses, you might feel a little unsure or apprehensive about where to start, or how to travel for the best price.
"We're proud of the ways in which we've upgraded our payment systems and on-board facilities, from tap-on, tap-off technology, to on board charging and WiFi, to make travelling with us easier and more comfortable than ever. This campaign is all about making sure that Glasgow has the information and confidence it needs to open up this pocket and planet friendly way of travelling to all."