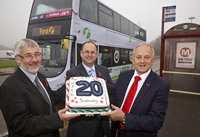 Partnership has seen 30 million passenger journeys since it launched in 1995
First West Yorkshire, Leeds City Council and West Yorkshire Combined Authority have celebrated 20 years of their successful bus partnership scheme.
The occasion was celebrated outside the Park & Ride site on King Lane – a key feature of the Guided Busway Scheme. The partners celebrated by cutting an anniversary cake in front of one of the current hybrid buses in a 'green' new livery.
The Scott Hall Road / King Lane scheme was one of the first bus partnership schemes in the UK spread over five sections from 1995. The scheme was introduced by Leeds City Council (who provided the road improvements to boost reliability and kerbs for access), Yorkshire Rider (later First Bus) who introduced high quality buses and Metro who delivered improved information and bus stop waiting areas.
The network has seen 30 million customer journeys since launch in 1995. As customer numbers have grown, First has introduced double-decker buses to meet demand and more recently has introduced 22 diesel-electric hybrids in 2011. Today, the 7 series of bus services operate on the guideway carrying over 45,000 customer journeys a week between Leeds and Alwoodley/Shadwell.
To celebrate the occasion First is inviting the public of Leeds to name the remaining 11 hybrid buses of the total 22 after iconic Leeds organisations and people, nominated through the @FirstWestYorks Twitter account.
Paul Turner, Head of Commercial for First West Yorkshire, said: "We're proud to celebrate 20 years of successful partnership with Leeds City Council and West Yorkshire Combined Authority serving our customers.
"The continuing growth of the 'Scott Hall' services is testament to the dedication of all our team that have served customers over these two decades. We look forward to welcoming more customers who can enjoy the reliable and high quality services that this bus priority scheme provides supporting the local economy and delivering low-carbon, great value travel options."
West Yorkshire Combined Authority Transport Committee Chairman, Cllr Keith Wakefield, said: "Around 180 million journeys in West Yorkshire are made annually by bus so it's good to be here today celebrating the 20th anniversary of this innovative scheme which, along with the other guided bus-ways in east Leeds and Bradford, has delivered enhanced services for passengers.
"As well as marking past achievements, the Combined Authority is currently embarking on the development of a Bus Strategy which shapes the county's network and services for the future.
"Good integrated transport underpins our economy and growth. Buses are vital to connecting people with opportunities in education, training, and jobs as well as local services and leisure activities. We need a bus network that people can be sure of, with quick, punctual and reliable services that are simple and easy to use, accessible for everyone, and provide safe and comfortable travel to provide those links."