People are being invited to attend two events at Leeds Bus Station to find out more about the proposals for improvements and provide feedback, which are to take place between 1000 and 1300hrs on Tuesday 22 October and from 1500 to 1800hrs on Thursday 24 October.
Used by 28,000 people every day, the bus station is a key gateway for people arriving in the city centre. West Yorkshire Combined Authority, which manages the county's Metro bus stations, and Leeds City Council have drawn up plans to transform the facility for passengers.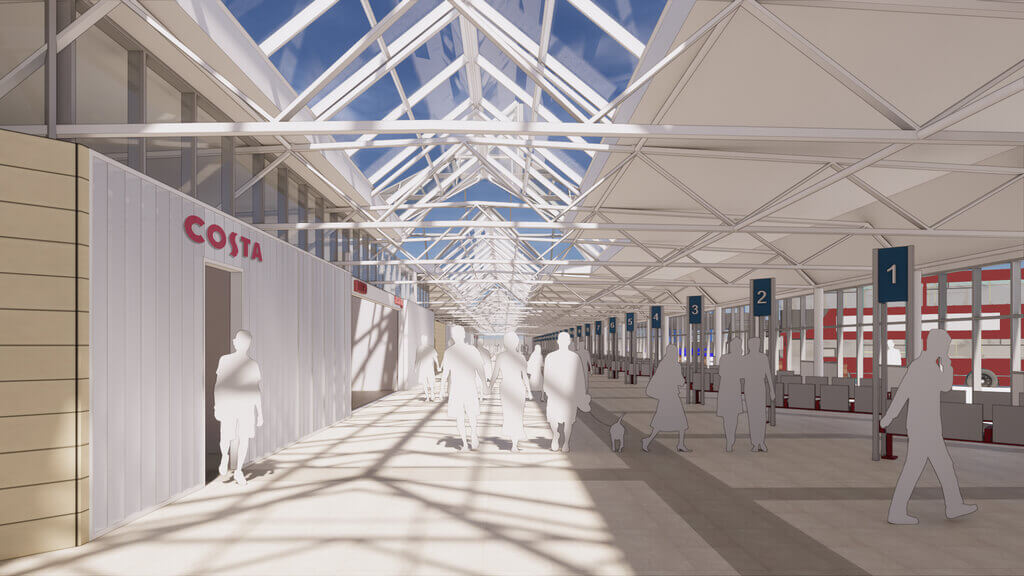 A comprehensive make-over of the main concourse will create a more attractive waiting area with a greater sense of space and clearer signage and information for passengers. The Travel Centre will be remodelled to provide a warmer welcome and help customers access the information and products they need more quickly, and the retail spaces will be upgraded. Realigned seating and new automatic doors at bus stands will improve the passenger experience. The installation of an electricity-generating solar panel system would make the bus station self-sufficient, the WYCA said.
Wayfinding and new flooring with tactile guidance and RNIB audio units at bus stand areas will help ensure the bus station is accessible for all users. Behind the scenes the facilities for bus drivers to prepare and eat food and take rest breaks would also be upgraded.
Information can be found, and feedback given, online through the West Yorkshire Combined Authority consultation website at www.yourvoice.westyorks-ca.gov.uk/LeedsBusStation.
Cllr Kim Groves, Chair of the West Yorkshire Combined Authority Transport Committee, said: "These improvements will help ensure Leeds Bus Station provides a fitting welcome for Leeds and the City Region, through a brighter, much-improved environment for customers with clearer information, signposting and links into the city centre, including the Corn Exchange area.
"These plans are in line with our overall ambitions, through the West Yorkshire Bus Alliance, to reduce congestion and the pollution it causes by making bus travel more attractive and meet the Combined Authority's commitment to tackling climate change. I would urge everyone with an interest to have their say online or to come along to one of the planned drop-in events."
Councillor Lisa Mulherin, Executive Board Member for Climate Change, Transport and Sustainable Development at Leeds City Council, said: "Making public transport more attractive will enable our city to become less reliant on cars. This will enable us to help reduce the greenhouse gas produced by private motor vehicles. Please take this opportunity to have your say on these plans."
The deadline for feedback is Monday 4 November, which will then be used to amend the plans. The project is forecast to be completed by March 2021.