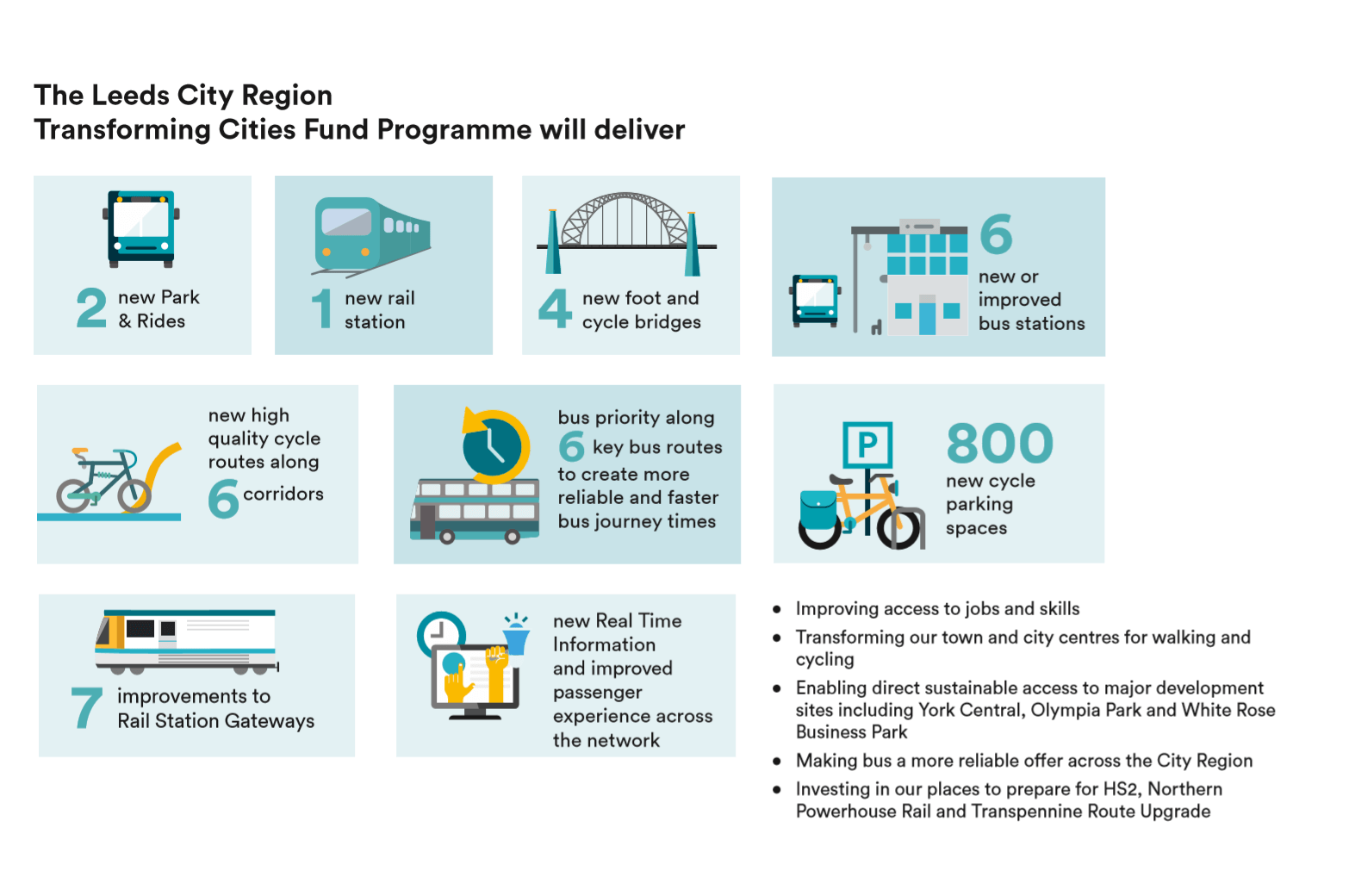 The West Yorkshire Combined Authority has submitted an ambitious final bid to the Government's Transforming Cities Fund
Two new bus Park & Rides, six new and improved bus stations, 800 new cycle parking spaces, six key priority bus routes, improvements to seven rail stations and one new station and new, high-quality cycle routes along six corridors are all part of Leeds City Region's £1.2 billion-plus bid to the government's Transforming Cities Fund.
If successful, it is claimed the funding will result in over 1,100 new jobs being created, £1 billion being added to the local economy. It will also mean a reduction of up to 15,000 tons of CO2 emissions from transport by 2036, which will help the City Region 'become carbon neutral and tackle the climate emergency.' Better access to railway stations, bus priority along key transport corridors and improved facilities will mean 33 million rail journeys a year made easier for local passengers, more than eight million additional journeys on West Yorkshire's buses and 12 million fewer car trips across the city region, the authority said. Plans also mean people living and working across the region will be able to make more journeys by bike or on foot, with changes to town and city centres making it easier for people to choose to travel more sustainably. Better connectivity resulting from a successful bid will also support the building of 45,000 new homes at 650 sites and the development of almost 1,600 hectares of employment premises at 220 locations.
West Yorkshire Combined Authority has developed the bid in partnership with district partners, Bradford, Calderdale, Craven, Harrogate, Kirklees, Leeds, North Yorkshire, Selby, Wakefield and York councils. It includes proposed transport improvements that will benefit residents, businesses and their employees in each of those areas and will result in communities having better access to an affordable, cleaner and attractive transport network, in line with the West Yorkshire Transport Strategy 2040.
Among the schemes contained in the Leeds City Region bid related to buses are:
Bradford: Improve links between its Interchange and Forster Square rail stations and introduce a new Park & Ride to the south of the city will ease congestion;
Calderdale: A new bus station linked to the new Calderdale College site. (A consultation on plans for the new Halifax Bus station is scheduled to take place between Monday 13 January and Wednesday 12 February);
Cleckheaton and Heckmondwike bus users will benefit from new bus hubs.
Harrogate: The bus station will have improved access by the creation of a more pedestrian-friendly environment;
Kirklees: A refurbishment of Huddersfield bus station;
Leeds(East): Improve bus priority which will improve capacity for commuters travelling from the east of the City Region to the city centre and will also reduce congestion and improve service reliability for residents and commuters;
Selby: A new plaza and bus interchange;
Wakefield: Improved pedestrian access from the bus station to city centre and new bus priority infrastructure on the A61 and A639 corridors; and
York: A reconfiguration of the area in front of the Rail Station will offer an improved bus interchange.
Full details of the West Yorkshire Combined Authority bid, including the Bid Document, the Vision and the Executive summary are at www.westyorks-ca.gov.uk/transforming-cities-fund