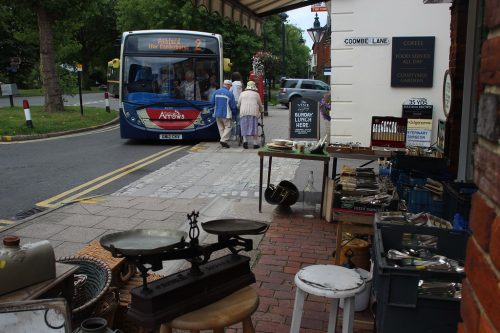 The scheme will no longer need a review every five years and is expected to continue for the foreseeable future
The Department for Transport (DfT) has said that disabled and older people in England will continue to benefit from free off-peak bus travel 'for the foreseeable future.'
Bus passengers aged over 65 or with a disability have been entitled to travel free of charge on any off-peak local service in England since 2007, thanks to the English National Concessionary Travel Scheme. The Government has now amended legislation to protect the scheme in its current format. The change means the scheme no longer needs to be reviewed every five years.
Buses Minister Nusrat Ghani said: "Being able to get out and about is hugely important for older and disabled people to keep their independence and play a role in their local community.
"Buses help connect people, homes and businesses and nearly 10 million people in this country are already benefitting from free off-peak bus travel. The legislation underpinning our important bus pass scheme is now set for the future, meaning this group will be able to access their local services and amenities."
Reacting to the news, Bus Users UK CEO, Claire Walters, responded: "Concerns over the future of the concessionary pass schemes for older and disabled people are a regular feature in our inbox, so we're delighted to hear that legislation protecting the scheme in its current form in England has been passed, ensuring that people who depend on this concession to have an independent life will still be able to enjoy that freedom.
"It's also good news that the new legislation has no expiry date, so we can hopefully see the end of worrying headlines every Spring which cast doubt over its future. It would be even better news if the outcome of concessionary scheme reviews in Wales and Scotland had similarly positive outcomes so that all concessionary passholders can breathe a sigh of relief."
Jonathan Bray, Director of the Urban Transport Group, said: "The older and disabled persons bus pass helps to ensure people can live fuller lives, something we fully support and which our members often supplement by funding additional concessions on other forms of local public transport.
"However, this national bus pass comes at a cost which is rising and which hard up local transport authorities have a legal obligation to pay for. The danger is that unless the costs of what is a national concession is fully funded by national government, then cuts have to be made elsewhere to compensate. This includes support for bus services themselves – which runs the risk of some older and disabled people having a free bus pass but no bus services left on which to use it."
A CPT spokesperson told CBW: "The Government's announcement is certainly very good news for passengers and will allow older and disabled people to continue using their local bus services with certainty. With over four billion passenger journeys undertaken each year in England, the value of high quality, reliable local bus services is clear, and for the 10 million users of concessionary passes they are essential in keeping them connected with friends, family and giving them access to the full range of amenities.
"CPT will, however, continue to push for fairer reimbursement to operators."
Claire Haigh, Chief Executive of Greener Journeys, added: "This is a welcome decision which protects a vital service for elderly and vulnerable passengers across the country. A huge number of people rely upon buses to travel to work, to town centres, and to visit friends and family. Protecting the free bus pass scheme ensures that we as a society will all continue to benefit from this vital investment."
Francesca Di Giorgio, Inclusion Policy Manager at RNIB (Royal National Institute of Blind People), said: "We are really pleased that the concessionary bus pass scheme will continue to run, guaranteeing free off-peak bus travel for people registered blind and partially sighted."
Dave Bracher, Campaigns Manager, Spinal Injuries Association, said: "Buses provide a lifeline to many of our members, enabling them to be active in their local communities, commute to work, visit family and friends and undertake a host of other activities.
"We know that having a spinal cord injury, like any disability, attracts significant additional costs – and this initiative helps people financially and to lead active, engaged and fulfilled lives."