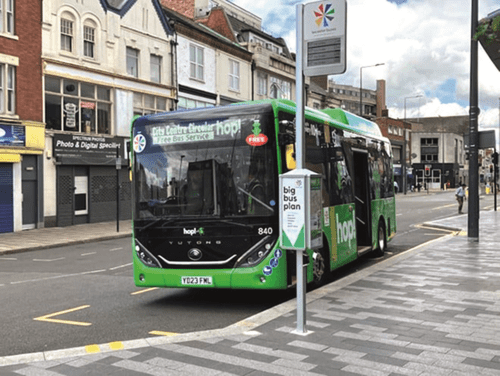 CCTV cameras are due to begin operating in Leicester's Belgrave Gate to tackle motorists who illegally park in a bus stop. The bus stop clearway, near the city's Haymarket bus station, is part of the recently-introduced, free, electric city centre 'Hop!' circular bus route, which carries around 1,000 people a day around the city centre. However, the City Council says it is frequently used by people stopping to load or unload or for parking which causes congestion and slows down the Hop! service's journey times.
CCTV cameras, new lines and signs are being installed. For the first two weeks after the system is switched on on Monday 4 September, drivers caught using the bus stop clearway will receive warning notices. From 18 September, penalty charge notices for £70 will be issued.
The work is costing around £25,000 for the CCTV installation and five-year operating contract, which is funded by the Transforming Cities Fund (TCF). Leicester deputy city mayor for climate, economy and culture Cllr Adam Clarke said: "The Hop! service has proved to be one of the success stories resulting from the Leicester Buses Partnership, providing a free, convenient way for people to travel around the city centre.
"People need to know the buses will run on time and can be relied upon, but keeping the bus clearways and bus stops free of other traffic is key to achieving that. Keeping the bus clearway free also means the Hop! buses are able to pull up to the kerb, which is important for passengers with mobility issues.
"We already use camera enforcement to keep the bus clearway outside Leicester station free of traffic, and are now extending that to the Hop! route stop in Belgrave Gate. For the first two weeks we'll be warning drivers to ensure they know about the new regulations, before we start issuing penalty charge notices."