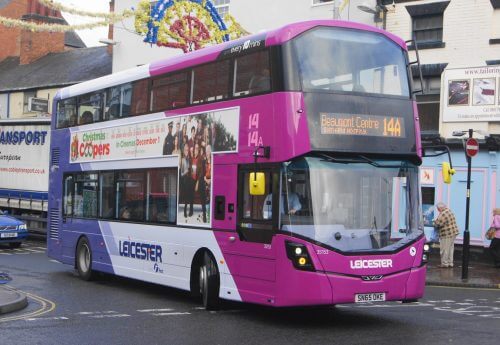 Citing the success of the old Leicester City Transport, Sir Peter Soulsby tells CBW he is lobbying to get a commitment to allow councils to re-municipalise their transport enshrined in the next Labour manifesto
The Mayor of Leicester, Sir Peter Soulsby is calling for the city's buses to be brought back under local authority control – and he has told CBW he is lobbying for the re-municipalisation of buses to be included in the next Labour manifesto.
Speaking to CBW, Sir Peter said: "We in Leicester used to be proud of our municipal bus company, Leicester City Transport. It provided a service across the city and cross-subsidised routes to serve all parts of the city. It sometimes made a profit, but that wasn't what it was about. It was a public service.
"However, we bowed to pressure from the Conservative Government of the day to privatise it.
"Leicester was particularly proud of the quality of service it offered. It was highly innovative – it had CCTV on its buses when that was less commonplace in the industry, and it also had in-cab radio control. It had a great understanding of events out on the road, meaning the service could be proactively managed and headways maintained. Helped by a city centre depot and 'hot spares,' with spare drivers and buses on hand, delays could be responded to immediately, which in turn provided an attractive service for the public. We used to pride ourselves on having a bus stop every quarter of a mile – you can't say that today.
"The privatisation of the bus industry has also seen fares rise astronomically high, so that many people have decided it's cheaper to run a car rather than take the bus into work every day. That isn't good for the environment and isn't good for the congestion on the roads.
"I'm convinced that the next Labour Government should commit to allowing councils to re-municipalise their transport, to get all the benefits that come from that and have something that runs as a public service."
Acknowledging that an election for the national Government in Westminster could be called at any time (as witnessed in 2017), Sir Peter said: "I'm lobbying to get that commitment enshrined in the next Labour manifesto."
He added: "We enjoy good working relationships with First and Arriva. They compete and they also have to prioritise their bottom lines, as well as their duty to their shareholders. It does mean that in Leicester, like most others areas, we see services concentrated on main roads and during peak hours. It also means that to many people in Leicester, the option to take the bus is no longer realistic."
When CBW politely suggested he may be interested in arranging to visit Bristol to see the partnership working between the city council, First, police and social services (as featured in CBW late last year), the former Leicester South MP replied: "Of course partnership working is important, but it's no substitute for responsibility and control. That sort of arrangement can't provide services to peripheral areas. I believe it's essential to provide a viable alternative to the private car.
"To be fair to Arriva and First, they have invested heavily and in modern vehicles for Leicester."
Asked whether the options for partnership working had been explored, Sir Peter said: "We're actively looking at what we can do in the meantime. We want to persuade bus companies to voluntarily agree to provide a level of service, but then to use legislation to require the operators to do so. The Bus Services Act is cumbersome – it only offers a partial solution."
Stressing that he is "committed to supporting public transport," Sir Peter outlined how bus priority measures have been implemented in the city: "We've introduced a number of CCTV monitored bus gates and bus lanes, which has assisted the flow of buses in the city.
"Cars must get around but there is a limit to how much they can be accommodated. It's especially true in cities like Bristol and Leicester, with their historic centres and narrow streets. If the number of cars increases too much, the bus suffers."
Asked whether he is a transport enthusiast, Sir Peter responded: "As an MP, I served on the Transport Select Committee. I have a longstanding interest in transport issues and I've brought that with me into this role."
Responding to Sir Peter's comments, Simon Mathieson, Area MD (North) for Arriva told CBW: "Arriva is focused on providing the very best transport services.
"We believe working in partnership with local authorities is the best way to make bus travel an even more attractive choice and linking people to work, education and employment opportunities throughout Leicester."
Nigel Eggleton, MD for First Leicester commented: "Presently, Leicester benefits from a comprehensive network of bus services, supplied by several privately-run bus operators, to all corners of the city and further afield into the county.
"Through strong partnerships with key stakeholders and major investment by the bus operators, most of the routes established within the city have modern high-frequency services that are sustainable and meet the demands of people choosing to use the bus as their preferred method of travel around the city.
"We constantly strive to deliver a reliable service for our customers, offer a range of travel ticket options, provide a comfortable enjoyable journey experience and we have invested a great deal in technology to improve air quality in the city, with new buses being introduced and retro kits fitted to older buses that emit less harmful emissions into the environment.
"I believe that bus services are better managed by the private sector, especially under the present circumstance with limited funding and resource available through our local authorities."