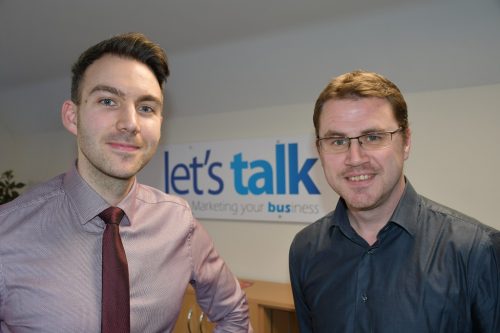 As the team at PB Bus Marketing explain to Andy Izatt, they understand how the bus industry is facing challenging times and are ready to provide a range of tailored communication services that can help
With local authorities around the country not only cutting back on contracted bus routes, but also what they spend on publicising services generally, Fair Oak, Eastleigh-based PB Bus Marketing believes it's well placed to 'step into the breach.' It says it understands the challenges independent bus operators, in particular, are now facing and has the expertise to help them better publicise and promote what they do.
"What makes us different is our knowledge of the industry and understanding of what operators are dealing with," explained Sales & Accounts Manager, James Herkes. "We pride ourselves in creating solutions that communicate in a simple way and we're also competitively priced. We know we can help and that's why we've created our new strapline, 'Let's talk.'
Built on experience
PB Bus Marketing was established by Phil Blair in 1995 after spending two decades in marketing, mainly working in the municipal bus sector. "The time was right to branch out on my own," he recalled. "I already knew a number of potential clients who all came onboard. My previous employer, Southampton Citybus also retained my services.
"In the past we've worked with Stagecoach, First and Arriva as well as numerous smaller companies including Compass Travel of Worthing, Cardiff-based NAT (New Adventure Travel), Faresaver of Chippenham, Metroline in London and D&G in Stoke-on-Trent. Then there's Ipswich Buses, Newport Bus, Thamesdown Transport, Blackpool Transport, Konectbus, Hedingham, Stephensons and Centrebus to name a few, plus councils such as Hampshire, Dorset, Plymouth City, Oxford City, Buckinghamshire, Argyll & Bute, Orkney, Highlands and Isle of Wight. We'll be continuing to work with a range of clients on new projects over the coming months."
While Phil continues as PB Bus Marketing Managing Director, he is also Chairman of bus operator, Xelabus which he runs with his Managing Director son Gareth and that takes up much of his time (CBW, March 13, 2018). PB Bus Marketing's day-to-day client contact is James while Phil's younger son Iain is Graphic Design Manager responsible for the firm's creative solutions.
"We need to get across to people that we're here to talk and want to take a collaborative approach to developing marketing and publicity," said James. "I know from talking to some of our existing clients that they have not always received that. What has been produced for them might be high quality, but it wasn't what they asked for.
"That's the beauty of 'let's talk.' We want to engage with people, understand their needs and come up with ideas that reflect what they want rather than just making something fit a format. In reaching out to independent operators at the moment, we'll be strengthening our core client base and it's where I think we have most to offer. "I've been with PB Bus Marketing since 2011 although my career has always been client facing. On leaving school I went into the print industry and it was through dealing with design agencies and clients that I first met the Blairs. Gareth Blair was increasingly involved with Xelabus so Phil asked me to come and work alongside Iain at PB Bus Marketing. […]
By subscribing you will benefit from:
Operator & Supplier Profiles
Face-to-Face Interviews
Lastest News
Test Drives and Reviews
Legal Updates
Route Focus
Industry Insider Opinions
Passenger Perspective
Vehicle Launches
and much more!