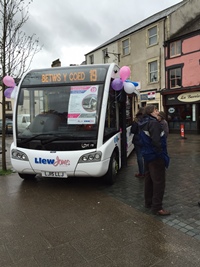 Llew Jones International of Llanrwst, Gwynedd, has taken over the Conwy Valley number 19 bus service.
The company registered to start running the commercial daytime service between Llanrwst and Llandudno from May 3, 2016. The service covers Llandudno Hospital and some journeys also extend to Betws y Coed.
Conwy County Borough Council is also funding evening services and diversions via Rowen and Henryd.
The service utilises Optare Solo buses.
Steve Jones, Managing Director of Llew Jones International, thanked all those who attended the service's successful launch event.
He said: "We  would like to extend our thanks to all those who supported the official launch of the new 19 bus service, running between Betws Y Coed and Llandudno (via Conwy, Rowen and Henryd). Particular thanks go to Guto Bebb MP, who cut the ribbon to launch the service, Cllr Hillary Rogers-Jones and Cllr Goronwy Edwards.
"Many of you came over to congratulate and express your gratitude for taking over the service.
"We feel that as a local company, we better understand the requirements of the people of Conwy Valley, and as a result are able to provide a much more tailored and user-friendly service.
"Special thanks to residents of Rowen who attended, having presented us with a 'Bring Back Our Bus' dragon."
Steve added: "I am pleased to report that the first few days of the service have gone well and it has received good support from both the local community and visitors alike."