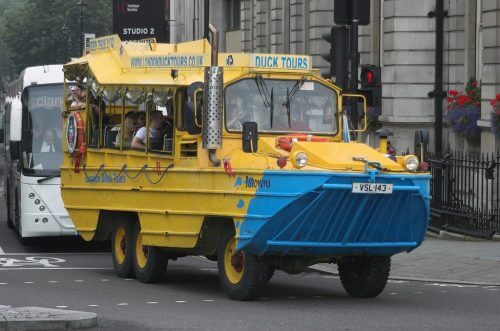 London Duck Tours is set to disappear from the Thames for the foreseeable future, the operator has announced.
The hybrid bus-boat DUKW vehicles, which can both drive on land and float on the river, have operated in the capital for 15 years, but September 17 is expected to be their last day on the water.
A slipway on the Albert Embankment in Vauxhall, which the vehicles utilized, has just been reclaimed by Thames Water, so it can make way for part of a £4.2bn Super Sewer scheme.
London Duck Tours has been unable to find an alternative docking site in central London, so has been forced to close.
John Bigos, Managing Director of London Duck Tours said: "The 18th September will be a very sad day for the company, which was going from strength to strength, but it was vital not to delay construction of this much needed infrastructure project.
"Tourists worldwide and Londoners will surely miss our iconic bright yellow DUKWs travelling around town. They have become a landmark in their own right."
Almost two million passengers have taken a ride on the amphibious vehicles, which were invented during World War II, since London Duck Tours opened in 2002.