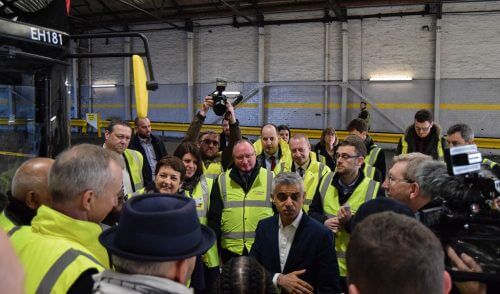 System preserves driver experience when they move between TfL operators, instead of causing them to restart on the new driver wage
The Mayor of London, Sadiq Khan, has announced the introduction of a new payment system for London bus drivers.
The 'Licence for London' aims to put an end to the previous system, which the Mayor claims saw drivers moving from one bus company to another paid the lowest driving wage as if they were starting their careers, even though they might have driven for many years with another company. From now on, drivers can start at a new company at a pay grade equivalent to their level of service and experience.
The deal has been brokered by the Mayor, with Unite the union, Transport for London (TfL), and the companies who operate bus services in the capital on TfL's behalf.
Drivers will now take with them their qualifications and driving record in the form of an enhanced reference for their new employers. All of London's bus operators have signed up to 'Licence for London' and have committed to apply it.
The Mayor unveiled the new 'Licence for London' at the Go-Ahead bus garage in Merton, where he met drivers, alongside Unite representatives, to discuss the benefits of the new scheme.
The Mayor of London, Sadiq Khan, said: "London's bus drivers do a crucial job ensuring Londoners can get around our city quickly and safely at all times of the day and night.
"I'm determined to ensure all of London's bus drivers are treated fairly as professionals, and I'm delighted we're now addressing a situation where a driver with the same level of knowledge, skill and experience could get paid significantly less, simply for working on a different route or moving company.
"Today's announcement shows the real progress you can make when you talk and engage constructively with workers and trade unions, rather than looking for confrontation. It is this same approach that has led to a nearly 65% reduction in the number of days lost to strikes on the London Underground compared to my predecessor as Mayor."
TfL's Director of Bus Operations, Claire Mann, said: "This is a good deal for London's 25,000 drivers and we're delighted to have been able to work with Unite and all the bus companies to agree it.
"Bus drivers are very often the unsung heroes of London's transport network, and we can forget they deal with tough situations in tough conditions in a very busy city, day in, day out. Good bus services, with fairly treated staff, play a key role in encouraging more people to switch from their cars to public transport, which is good for the whole city."
Unite General Secretary, Len McCluskey, said: "London's bus workers do a stressful job keeping the capital on the move, 24 hours a day, seven days a week. They are the lifeblood of London and thanks to the hard work of Unite, everyone involved will have their professionalism and experience recognised by the new London Licence.
"No longer will London's bus workers have to take a pay cut if they move operator and go to the bottom rung of the ladder. Before now, if a driver with 10 to 15 years' experience moved jobs they could end up being paid the same as someone new to industry who had never driven a bus before."
Go-Ahead London's Managing Director, John Trayner, said: "As London's largest bus company, with approximately 6,400 drivers and 16 locations, we are committed to ensuring a career with Go-Ahead is a well-rewarded and secure one. 'Licence for London' recognises the tremendous work undertaken all year round by colleagues and I am delighted the Mayor, whose Father drove buses locally, chose Merton Garage to launch this very worthwhile initiative."