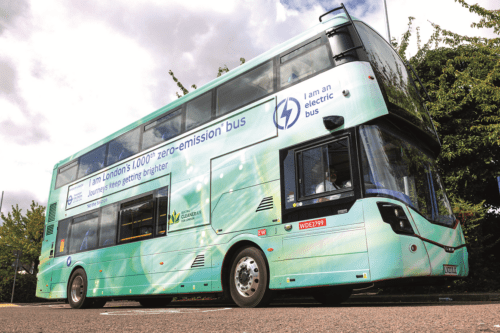 With one of the largest zero-emission bus fleets in western Europe, over one in nine buses is now zero-emission in the capital with nine years to go to achieve its 2034 target of a fully emission-free fleet
London has reached and surpassed what Transport for London (TfL) says is a major milestone, with more than 1,000 zero-emission buses now in operation on the city's streets; the 1,000th will normally be used on route 204. The latest delivery of zero-emission vehicles means that more than one in nine of the city's red buses have now gone green as part of TfL's goal to have a fully zero-emission fleet by 2034. Since 2021, all new vehicles entering service in London have been zero-emission.
TfL says it is currently on track to transition to a fully zero-emission bus fleet by 2034 but, with continued Government investment, this target could be achieved by 2030. Since 2016, when the first 30 electric buses were placed in service, the number of zero-emission bus routes in the capital has increased from five to 54, with a further 15 routes using a mixture of zero-emission and diesel buses. Through the decarbonisation of London's bus network, TfL believes it can save an estimated 4.8m tonnes of carbon by 2034 or an estimated 5.5m tonnes by 2030 with additional Government funding.
TfL says that it's zero-emission bus fleet is not only the largest in western Europe, but also has the lowest CO2 emissions per passenger kilometre when compared to other global cities such as New York, Sydney, Paris and Vancouver.
Mayor of London Sadiq Khan said: "London has a world-class public transport network and our zero-emission bus fleet is setting the standard for others to follow. I'm committed to cleaning up London's air achieving net-zero carbon by 2030, and that includes delivering a zero-emission bus fleet. The decarbonisation of our bus fleet, the increases and improvements in bus services in outer London, and the new proposed Superloop will help build a better, greener London for all."
Director of Buses at TfL Louise Cheeseman added: "I am very proud that more than 1,000 zero-emission buses are now operating on our iconic bus network. It is a significant moment in our journey to achieving net-zero by decarbonising our bus fleet and improving air quality across the capital. Buses remain the quickest, easiest, and cheapest way to shift trips made by cars to public transport. Buses carry up to 80 times the number of people as a car, make efficient use of road space, and cut emissions by both taking polluting private vehicles off the roads and offering up a green alternative.
"Our network's zero-emission buses don't just benefit London but the whole of the UK, creating high quality manufacturing jobs and lower costs for other regions buying new vehicles. We look forward to seeing more of our routes go green in the near future, creating a virtuous circle for those living in London and local economies across the country."
TfL's Bus Action Plan sets out how London's bus network can attract more customers and help the capital reach its net zero target by 2030. Buses are already the most used form of public transport in the capital, and earlier this year, TfL announced its new Superloop project to create a branded network of limited-stop express bus routes that circle the capital, something it says will create a 'game-changing new network of bus services' and promises will be a significant step in the Mayor's commitment to improve the bus network in outer London.
Last month, TfL launched route SL8, the first route to carry the Superloop branding, and has since rebranded another route, which has become the SL6 and runs between Russell Square and Croydon. TfL plans to rebrand two remaining existing routes this summer.
"Zero-emission buses are a triple win for our lungs, our climate and the UK economy. I'm delighted London has hit this milestone but we've still a long way to go to rid our lungs of diesel fumes. There is now a clear opportunity for this Government to turbo-charge the ambition of our city leaders. UK-wide investment in zero-emission buses would clean up our air, increase jobs and catapult the country as a global leader in our next industrial revolution – transport decarbonisation."
Oliver Lord, Head of UK for Clean Cities Campaign
"The 1,000th electric bus is a significant milestone in the decarbonisation of London and the bus network. Metroline is proud to operate more than 100 electric vehicles across a number of routes with more to follow, transporting tens of thousands of Londoners each day on zero emission vehicles. It has been a great team effort to get to this point, with three garages already electrified and a fourth to come, and it demonstrates our continued investment and commitment to leading the way for our customers and helping provide cleaner air for Londoners with our ever-growing fleet of all-electric, zero emissions buses."
Sean O'Shea, CEO, Metroline
"London is on the road to more sustainable travel. We want London to have a world class transport system and be carbon neutral – cleaner, greener buses will help us get there. Buses are the most commonly used form of public transport in London, and are especially important for Londoners on lower incomes.
"To keep moving forward quickly, our research has consistently found that central government should continue to work together with City Hall and the boroughs to give people more practical and joined-up options for getting around."
Josh Cottell, Research Manager, Centre for London