The London Transport Museum is purchasing three of Mike Sutcliffe MBE's early Leyland bus restorations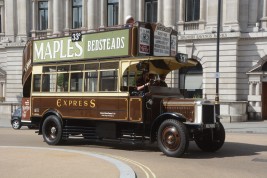 The first of the three, a 1914 LNWR Leyland S4 36Ts 'Torpedo' charabanc will be handed over at King Long Showbus International on September 20. In the lead up to the transfer Mike is creating an archive of material relating to the bus, its operation and restoration which will help to ensure that the museum staff are equipped to safely maintain and drive the vehicle.
Mike's 1924 Chocolate Express Leyland LB5, which was run by Arthur Partridge who became the most famous of the London 'Pirate' bus operators, will be transferred next year, with the last of the three, a 1908 London Central Leyland X-type, following in 2017.
All three vehicles have won the Concours d'Elegance in the London to Brighton Commercial Vehicle Run having been meticulously restored to the highest possible standard from a very derelict condition by Mike. In 2004 he was awarded the MBE for 'Services to Motor Heritage'.
Sam Mullins, Director of London Transport Museum, said: "The three Leyland buses are a wonderful addition to our collection. Each one has a fascinating history and will help us to bring the story of London's transport heritage and development alive. The public will be able to see the 'Torpedo' charabanc in the Museum at Covent Garden from autumn this year."