Oxford Bus Company is to withdraw the X90 London express service from 4 January 2020
A statement from Oxford Bus Company read: "The decision has not been taken lightly and the company will be doing everything possible to minimise the impact on customers and colleagues up to the withdrawal date."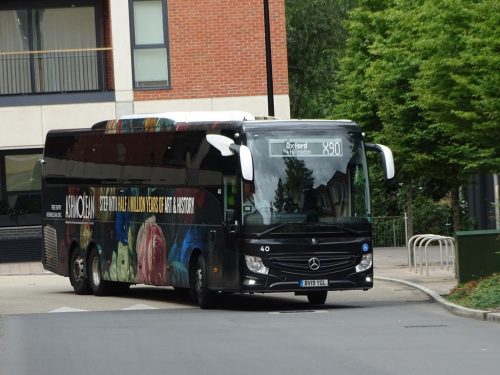 Season tickets and 12-trip passes will continue to be valid up until the service stops and from 4 January any unused tickets will be eligible for a pro-rata refund.
The X90 coach service between Oxford and London has a long and proud history, which can be tracked back as early as the 1920s. The current express service has operated for more than 40 years and has carried millions of customers.
Oxford Bus Company also stated that "falling passenger numbers due to new rail competition and worsening congestion have made maintaining the X90 service challenging. This has seen the time it takes to complete a journey between Oxford and London worsen by up to 50% in two years and passenger numbers drop by 35% since 2015.
"Oxford Bus Company introduced several measures to adapt to the challenges, including new timetables and lower fares, but it is with regret that it is no longer viable to operate the X90 service. All X90 drivers will be redeployed to other roles within the business and Oxford Bus Company aims to keep job losses relating to the withdrawal of the service to a minimum."
Phil Southall, Oxford Bus Company Managing Director said: "We would like to thank everyone who has travelled with the X90 and our colleagues who have worked with us throughout this time. The withdrawal of the service is no reflection on the performance of colleagues, and we are grateful to everyone who has travelled on the service. We are aware that we have many loyal customers who will be inconvenienced."
The news of the service ending was also posted on Oxford Bus Company's social media pages on the same day, one user asking "I would be interested to know how @Oxford_Tube react to this, Surely they have been impacted in a similar way?" The Stagecoach-owned company responded quickly by tweeting "We will be reviewing this news and an official statement will follow as soon as we are in a position to comment."
As reported by CBW on 20 August, National Express has entered into a ticketing agreement with Oxford Tube. This agreement was formerly held with Oxford Bus Company.
The withdrawal of the X90 service leaves Oxford Tube as the sole frequent express coach operator between the Oxford and the Capital, using a fleet of 25 Van Hool Astromega coaches dating from 2014.
Read more news here: cbwmagazine.com/category/news