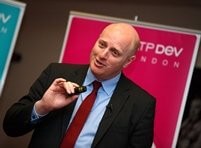 Transport for Edinburgh CEO and Edinburgh Trams General Manager roles filled, with Richard Hall leaving RATP London to take over as Lothian Buses MD
Three of the most senior positions in transport in Edinburgh have been filled, following the recruitment of a Transport for Edinburgh (TfE) Chief Executive, a Managing Director of Lothian Buses and a General Manager for Edinburgh Trams.
George Lowder MBE has been appointed Chief Executive of Transport for Edinburgh, Richard Hall will take up the Managing Director role at Lothian Buses and Lea Harrison will be General Manager at Edinburgh Trams.
The start dates for each of the roles are to be announced in due course.
George Lowder will join TfE from the military after a decorated career in Defence spanning nearly 35 years. Commissioned into The Royal Scots (The Royal Regiment) in 1981, he studied Scots Law at Aberdeen University and gained a Masters from Cranfield University before commanding The Army in Scotland. Latterly his role was in the MOD, where he led a multi-agency and multi-disciplined team.
During his military career he received a Commander's Commendation for his actions on Operation Desert Storm, a Queen's Commendation for Valuable Service in Bosnia and in 1998 he was made an MBE in the New Year's Honours List.
Lesley Hinds, Chairman of TfE and Transport Convenor for the City of Edinburgh Council, said: "We expected that these positions would attract high calibre candidates and we weren't disappointed.
"TfE and the city it serves are major attractions for some of the best in the UK transport profession and I'm delighted that we have secured such exceptional interest.
"Our new senior team will be pivotal in supporting the transport infrastructure we need but also the wider economy. I wish George, Richard and Lea all the very best in their new roles and I look forward to working with them as a team as we continue to push Edinburgh's integrated transport agenda."
Richard Hall FCILT started his bus career in coaches and private hire and then spent six years with Stagecoach and three years with Veolia Transport in Wales. He joined Arriva in 2010 where he worked in the west coast of Scotland and Glasgow before working on the transport delivery for the 2012 Olympics and laterally in Malta. Richard is currently the Managing Director for RATP in London where he has been responsible for leading over 3700 people, across 11 operating sites, operating contracted bus services for Transport for London as well as a developing commercial bus and coach operation launched in 2015.
Jim McFarlane, Chairman of Lothian Buses and TfE Board Member, said: "Hundreds of thousands of residents, workers and visitors rely on our buses every day and we are proud to provide them with one of the best city operations in the UK. With Edinburgh growing in popularity as a place to live, work and visit, our services are crucial to the smooth running of the city.
"We also have ambitious plans to further improve the quality of our fleet, making our services cleaner and greener. So, we are delighted to be able to appoint Richard, who has vast experience and excellent leadership credentials, to lead the whole Lothian Buses team to further success."
Lea Harrison MCMI spent eight years in the Royal Corps of Transport as a driver before leaving the Army and joining Greater Manchester Metrolink (Manchester Tram) at the entry level as Tram Driver in 1991. He has since developed his career in tramways from Driver to General Manager over the last 25 years.
Each of the positions will report to the chairman of their respective board, with the Managing Director of Lothian Buses and the General Manager of Edinburgh Trams also having 'dotted line' accountability to the Chief Executive of TfE. The Managing Director of Lothian Buses and the General Manager of Edinburgh Trams will sit on the respective boards and the Chief Executive of TfE will attend all three boards.